RAZGOVOR S PHILIPOM DE TENDEROM
3. 12. 2019.
PROMICANJE PLURALIZMA ODGOVORNOST JAVNIH MEDIJA
U Zagrebu je u studenom održan Xlll. Forum medija jugoistočne Europe. Na Forumu su otvorena mnoga pitanja u vezi medija i njihovom ulogom u demokraciji, ali Jean Philip De Tender bio je jedan od rijetkih sudionika koji je govorio o važnosti zastupljenosti manjina u javnom emitiranju. Imali smo priliku razgovarati s njim o stanju medija u našoj regiji, inicijativi romske radne skupine, o porastu govora mržnje na javnim mjestima i još mnogo toga.
Jean Philip De Tender je medijski ravnatelj Europske radiodifuzne unije (EBU) od 2015. godine. Pre toga, dvadeset pet godina radio je za VRT, flamansku javnu radioteleviziju u Belgiji. Karijeru je započeo kao novinar raznih televizijskih i radio programa, da bi kasnije je postao ravnatelj televizijskog programa. Od 2007. godine do 2014. godine De Tender je bio glavni upravitelj najvećeg televizijskog kanala u Flandriji – Eén. Njegova prva knjiga objavljena je 2010. godine pod nazivom "Sve je priča".
Razgovarao: Božidar Kolov
Gospodine De Tender, nedavno ste sudjelovali na konferenciji XIII. Foruma medija za jugoistočnu Europu u Zagrebu i tom prilikom održali ste vrlo zanimljiv govor. Prema vašim utiscima s Foruma, koji su glavni izazovi s kojima su suočeni javni mediji u regiji?
Ova regija susreće se s mnogim izazovima s kojima se susreću javni medijski servisi u drugim europskim zemljama pa i šire. Svjedoci smo sve većeg broja usklađenih pokušaja spriječavanja slobodnog i neovisnog izvještavanja, koji ostavljaju ozbiljne posljedice po demokraciju na čitavom našem kontinentu. Možemo vidjeti porast širenja netočnih informacija i lažnih vijesti. Slobodni, nezavisni i pouzdani mediji nikada nisu bili neophodniji nego u ovim trenutnim političkim i društvenim okolnostima. Također, moramo biti svjesni situacija u kojima su novinari onemogućeni da rade svoj posao jer su zaplašeni – ili još gore.
U vrijeme kada su javni medijski servisi potrebani više no ikad prije, primjećujemo porast konkurencije s drugih platformi i distribucijskih mreža – posebno društvenih medija i velikih tehnoloških platformi. Snaga javnih medijskih servisa u ovim okolnostima, s naglaskom na visokokvalitetni, neovisni i pouzdani sadržaj ne mogu se podcijeniti, a posebno su relevantni u regijama u kojim se demokracija još uvijek razvija te mogu biti podložniji korupciji i organiziranom kriminalu.
Jedan od najvažnijih zadataka Europske radiodifuzne unije je podrška i jačanje javnih medijskih servisa. Možete li nam reći nešto više o tome kako Europska radiodifuzna unija ostvaruje ovaj cilj?
Dobro financiran i snažan javni medijski servis je kamen temeljac demokratskih društava, a pokazalo se da je to povezano s višim stupnjima slobode tiska, nižim razinama desničarskog ekstremizma i boljom kontrolom korupcije. Kao što je ranije naglašeno, uz širenje lažnih vijesti i govora mržnje u svijetu danas, neovisni i pouzdani izvori vijesti i informacija nikada nisu bili bitniji.
Europska radiodifuzna unije je najveće profesionalno udruženje javnih medijskih servisa na svijetu. Mi pomažemo našim članovima u ostvarivanju ovih javnih vrijednosti, tako što im nudimo prilagođene usluge i inicijative, kao i kroz zajedničke aktivnosti s našim partnerima, utičući na medijsku politiku. Također, blisko surađujemo s našim članovima kada su te temeljne vrijednosti ugrožene.
Stvorili smo novu Strategiju "Zajedno" – gdje smo utvrdili četiri stupa strateških aktivnosti za podršku pojedinim članovima odnosno javnim medijskim servisima. Djelujemo kao zagovornik vrijednosti javnih medijskih servisa i ističemo njihova dostignuća i doprinose društvu – to je Glas javnih medijskih servisa, prvi stup Strategije. Drugi stup je Zadovoljan partner. Kvalitetan i relevantan sadržaj je za naše članove najbitniji za pružanje usluga publici. Za naše članove je najbitnije pružanje kvalitetnog i relevantnog sadržaja svoj svojoj publici, uključujući i teško dostupnu, naročito mladu publiku i djecu.
Blisko surađujemo s članovima kako bismo podržali razmjenu sadržaja širokog raspona, uključujući vijesti, glazbu, radio, sport i dramu. Također, "Zajedno" ima za cilj da Europska radiodifuzna unija postane središte znanja. Kako se medijsko kruženje brzo mijenja, od suštinske je važnosti pružanje podrške članovima u prilagođavanju svog rada i poboljšanju stručnosti za suočavanje s novim tehničkim i digitalnim izazovima. Organiziramo tečajeve, radionice za stjrcanje vještina, i velike skupove namenjene svim članovima. Na tim skupovima članovi mogu razvijati svoje sposobnosti, razmjenjivati ideje i djeliti iskustva. I na kraju, Olakšavanje mogućnosti umrežavanja. Iz razgovora sa članovima znamo koliko cijene mogućnost pristupanja sebi sličnima iz javnih medijskih servisa drugih organizacija. Svake godine omogućavamo niz mrežnih aktivnosti i događanje širom Europe.
U svom govoru ste naglasili važnost zastupljenosti manjina i ugroženih skupina u javnim medijima. Romi su značajna manjina u nekoliko država čiji su javni mediji članovi Europske radiodifuzne unije. Što Unija čini po pitanju važnosti pružanja medijskog prostora manjinama?
U regiji jugoistočne Europe, s bogatom poviješću različitih kultura, tradicija, religija i nacija, javni medijski servisi imaju vodeću ulogu u promicanju pluralizma i različitosti. Osnovni cilj djelovanja naših članica je doprijeti do svih građana, što uključuje i uvažavanje interesa nacionalnih manjina. To je od velike važnosti za integraciju manjina u društvu, promicanje demokracije i društvenu koheziju.
Naše članice upravljaju s 261 radiotelevizijskijskim servisom i internet 'strimovima', koji su dostupni na više jezika, te su namijenjeni svima, a ne samo onim građanima čije je maternji jezik ujedno i službeni jezik u pojedinoj državi, te različitim religijskim grupama, migrantima i manjinskim narodima. U Europskoj radiodifuznoj uniji smo pokrenuli nekoliko projekata za podršku emitiranja programa namjenjenog manjinskoj publici. Na primer, stvorili smo Romsku radnu skupinu EBU-a i olakšali razmjenu vijesti putem Europske regijske razmene vjesti u jugoistočnoj Europi. U ovmj se području neprekidno radi, a mi težimo i podržavamo osposobljavanje novinara iz manjinskih skupina kako bi izvještavali o pričama iz vlastitih zajednica.
Vrijedi napomenuti kako dobre prakse nisu napori koji su usmjereni na izradu programa namjenjenih da zadovolje interesiranja manjina već je važno osigurati da predstavnici manjinskih skupina budu uključeni i u uređivanje javnih medija i u svakodnevno djelovanje tih medija te da pripadnici manjina imaju upravljačke i druge uloge unutar medija.
Posljednjih godina govor mržnje je u porastu, naročito prema manjinama. Prema vašem mišljenu, kako se može savladati ova tendencija širenja govora mržnje?
Na međunarodnom nivou je bitno da oni koji su na vlasti naglašavaju, riječima i djelima, koliko su sloboda media i sloboda izražavanja važni za funkcioniranje demokracije.
Govor mržnje širi se kada se lažne vesti i neistinite informacije prenose bez dovođenja u pitanje i kada im se dopusti da se maskiraju kao istinite, kao i kada nepostoji jednaka mogućnost da se čuju različiti glasovi u društvu, odnosno kada samo jedna strana ima platformu koja joj to omogućava. Kako se to ne bi događalo važna je sloboda medija da izvještavaju i istražuje bez zastrašivanja. Ipak, ova osnovna načela demokracije još uvijek su ugrožena, čak i širom Europe.
Od vitalnog je značaja da javni medijski servisi surađuju u borbi protiv lažnih vijesti i pokušaja kontroliranja slobodnih medija. To bi trebalo proširiti na suradnju s drugim organizacijama koje rade na promicanju slobode medija i kao i slobode pojedinca, poput organizacije Reporteri bez granica, s kojima Europska radiodifuzna unija surađuje u stjecanju povjerenja u novinarstvo. Također je važno da države ulažu i podržavaju snažne i neovisne javne medije, kao i da državne institucije kao što su vlada i pravosuđe, počivaju na demokratskim vrijednostima i građanskim slobodama. Provjeravanje i odgovornost počinju od vrha. Sve manje od toga ne bi bilo u javnom interesu, a posebno ne u interesu demokratskog društva, za koje bi slobode govora i djelovanja trebale biti osnovna postavka.
Prema Vašem mišljenju, kako nove tehnologije utječu na javni medijski servis i kakva je budućnost tradicionalne televizije?
Medijsko okruženje razvija se brže nego ikada do sad, a novi razvoj, novi konkurenti, novi sudionici i nove potrošačke navike stvaraju ogroman pritisak na naše tradicionalne uloge i kako dopiremo do publike.
Od javnih servisa to zahtjeva uvođenje novina, upoznavanje s novim vještinama i pristupima, ulaganje u alate i osoblje, kako bismo dalje napredovali, ali ostali dosljedni najvišim profesionalnim standardima i novinarskoj etici.
Nove tehnologije pružaju mogućnosti javnim medijskim servisima budući da tehnologija i dalje igra značajnu ulogu u stvaranju i proizvodnji, od novinara javnog medijskog servisa i onih koji taj sadržaj pružaju očekuje se još viši stupanj zdravog razuma i odgovornosti u odnosu na konačne rezultate njihovog djelovanja. Pouzdano, točno izvještavanje će opstati i njegova važnost će porasti kao vitalna vrijednost za publiku. Međutim, i za javne medijske servise postoje rizici, ali ti rizici nisu u skladu s razvojem zbog tradicionalnog nepovjerenja prema tehnologijama i zbog manjka vještina i ulaganja.
Već sad možemo vidjeti kako javni medijski servisi sve više koriste 'podatkovno' novinarstvo i sredstva umjetne inteligencije u cilju razumijevanja odnosno prepoznavanja publike i njihovih promjenljivih obrazaca potrošnje kao i boljeg razumijevanje potreba građana.
Ima li budućnosti za tradicionalnu televiziju? Usred ovih prijelaza i širenja platformi ostaje činjenica: odličan sadržaj se pročuje, a ljudi žele pristup tom sadržaju ali usklađen s njihovim vlastitim rasporedom i načinom života.
Ono što je nepovratno promenjeno jest način na koji gledamo TV. Statični televizori sve su manje bitni, premda i dalje nisu suvišni, ali pokretni uređaji kao što su laptopi, tableti i telefoni, postaju sve važniji. To je razlog zašto kanali distribucije, kroz koje dostavljamo sadržaj publici, moraju briti prioritet javnim medijskim servisima u budućnosti.
Europska radiodifuzna agencija osnovana je pre skoro sedamdeset godina i većina njenih članova su nacionalne medijske organizacije. Što mislite, kakav je utjecaj globalizacije na publiku na nacionalnom nivou, i hoće li ova kategorija korisnika biti relevantna i u budućnosti?
Prema našem iskustvu, publika na svakom nacionalnom tržištu radije se odlučuje za gledanje nacionalnog sadržaja. Najgledaniji programi na svakom europskom tržištu, s vrlo malo izuzetaka, su upravno nacionalni sadržaji u pojedinim državama.
Otkrili smo da su emisije spotskog sadržaja najgledanije, te da ljudi obično prate svoje lokalne i nacionalne timove. Također, u području fikcije i drama lokalne odnosno nacionalne priče su gledanije od međunarodnih. Naravno, postoje međunarodni hitovi, ali oni nisu nadvladali lokalni odnosno nacionalni osjećaj mjesta i identiteta i zato su drame kod publike na nacionalnom nivou toliko popularne.
Prevladavaju nacionalne vijesti koje proizvode nacionalne televizije o, uglavnom, nacionalnim temama. Čak i kada je u pitanju zabava, dok međunarodne forme dominiraju na mnogim tržištima, proizvode se za svaku zemlju zasebno, s domaćim talentom i često prilagođavajući sadržaje nacionalnim specifičnostima.
U tom smislu, nacionalni sadržaj za nacionalnu publiku i dalje je veoma privlačan prijedlog.
The thirteenth South East Europe Media Forum took place in Zagreb in November. Many different issues related with media and its role in democracy were discussed at the Forum, but Jean Philip De Tender was one of the few participants who spoke about the importance of minority representation in public broadcasting. In the following interview we discussed with him the state of media in our region, the Roma Task Force initiative, the rise of hate speech in public space and much more.
Jean Philip De Tender is Media Director at the European Broadcasting Union since 2015. Before that he has been working for 25 years for VRT, the Flemish public broadcaster in Belgium. He started as a journalist for various television and radio programs and later became television program manager. From 2007 till 2014 De Tender was the general manager of the biggest television channel in Flanders - Eén. In 2010 out interviewee published his first book - "Everything is a story".
Mr. De Tender, you've recently participated in the South East Europe Media Forum Conference in Zagreb and you delivered a very interesting keynote speech. From your impression of the Conference, what are the main challenges facing the region's public media?
This region shares many of the same challenges that public service media (PSM) faces across Europe and wider. We are seeing greater increases in concerted attempts to shut down free and independent representation, moves that have severe implications for democracy throughout our continent. We are seeing increased proliferation of disinformation and fake news. Never was the need for free, independent and trusted media more vital than in these current political and social circumstances. We also need to be mindful of situations where journalists are unable to operate for fear of intimidation - or worse.
At a time when PSM is needed more than ever, we are seeing increased competition from other platforms and distribution networks – particularly social media and big tech platforms. The strengths of PSM in this climate, with its focus on high-quality, independent and trusted content cannot be underestimated and is particularly relevant in regions which have fledgling democracies and could potentially be more vulnerable to corruption and organized crime.
One of the key missions of the European Broadcasting Union is to support and strengthen public service media. Can you tell us more about how the EBU achieves this goal?
Well-funded and strong PSM is the cornerstone of democratic societies and has been shown to correlate with higher degrees of press freedom, lower levels of right-wing extremism and better control of corruption. As outlined above, with the proliferation of fake news and hate speech in the world today, an independent, trusted source of news and information has never been more important.
The EBU is the biggest professional association of PSM in the world. We help our Members embody these public values through offering tailored services and initiatives and through the work we do with our partners in influencing media policy. We also work closely with our Members when these core values are threatened.
We have a new strategy "Together" – where we have identified four pillars of strategic activity to support individual Members and PSM. We act as an advocate for PSM values and champion their achievements and contribution to society – that is Voice of PSM, the first pillar of the strategy. Another one is Content partner. High-quality and relevant content is key to our Members service for all audiences, including the difficult to reach, particularly young audiences and kids.
We work closely with Members to support content exchanges across a wide range of areas, including news, music, radio, sport and drama. "Together" aims also that EBU becomes a Hub of knowledge. With the rapidly changing media landscape, it is essential Members are supported in adapting their operations and upskilling staff to meet new technical and digital challenges. We run training courses, skills workshops and large scale assemblies that are open to all Members for skills training, exchanging ideas and sharing experiences. And finally, Facilitating networking opportunities. We know from talking to Members how much they appreciate having access to their peers in other PSM organizations. We provide a range of networking activities and events across Europe annually.
In your speech, you emphasised the importance of representation of minorities and disadvantaged groups in public media. Romani people are a significant minority in a number of counties whose public media outlets are members of the EBU. What does the Union do to address the importance of representation?
In the South East European region, with its rich history of different cultures, traditions, religions and nations, PSM has a major role to play in promoting pluralism and diversity. Reaching all citizens, which includes serving minority interests, is a major element of our Members' remits and is crucial for minority integration in society, for promoting democracies and for social cohesion.
Our Members operate 261 TV and radio services and internet streams that target a range of languages, non-native citizens, religious groups, migrants and ethnic minorities. At the EBU, we have launched several projects to support broadcasting to minority audiences. For example, we created a Roma Task Force and facilitated an exchange of news stories through the Eurovision Regional News Exchange for South East Europe (ERNO). And work is on-going in this area, with our ambition of supporting the training of journalists from minority groups to cover stories from their own communities.
It is worth noting that good practices are not only those efforts that are oriented towards making programmes for different minority interests. It is also about ensuring representatives of these groups are involved in editorial roles and in the day-to-day work of their public media, through governance and other roles.
In recent years hate speech, especially towards minorities, has been on a raise. In your opinion, how can this tendency be tackled?
Internationally, it is important that those in power stress, through words and actions, how crucial media freedom and freedom of expression are for a functioning democracy.
Hate speech proliferates when fake news and disinformation spreads unchallenged and is allowed to masquerade as truth – and when only some voices in society have platforms for expression. Freedom of the press to report and investigate without fear of intimidation is key to this – yet we have seen this fundamental democratic tenet undermined, even across Europe.
It is vital that PSM collaborate and work together to combat fake news and attempts to control media freedoms. This should extend to working in partnership with organizations that are working to promote press and individual freedoms too, such as Reporters Without Borders for example with whom the EBU collaborates on trust initiatives in journalism. It is also vital that countries invest and support a strong, independent public media and that state institutions are rooted in democratic values and civil liberties, from governments to judiciaries. Scrutiny and accountability starts at the top. Anything less is not in the public interest and certainly not in the interests of democratic societies, where freedoms of speech and actions should be a given.
In your view, how do new technologies affect public service media and what is the future of traditional TV?
The media landscape is evolving at an unprecedented rate, and new developments, new competitors, new players, and new consumer habits are putting enormous pressure on our traditional roles and how we reach audiences.
For Public Service Media, this requires a need to innovate, familiarise ourselves with new skills and approaches and ensure we invest in the tools – and our staff – so that we stay ahead of developments, but continue to stay true to the highest professional standards and journalistic ethics.
New technologies represent opportunities for public service media – as technology continues to play a significant role in content and output, PSM journalists and content providers will be required to play an even greater role in applying judgement and accountability to that output. Trusted, rigorous reporting will remain – and increase – as vital currency for audiences. But there are risks too for PSM – and those are not staying abreast of developments because of traditional fears of technologies and lack of skills and investment.
We are already seeing PSM increasingly using data journalism and artificial intelligence tools to understand audiences – and their changing patterns of consumption – and better understand citizens' demands.
Is there a future for traditional TV? Well, in the midst of these transitions and the proliferation of platforms, the fact remains: great content resonates, audiences want access to that content – but to their own schedules and lifestyles.
What streaming has changed irrevocably is the way we watch TV. The importance of a static TV set recedes, though is nowhere near redundant, and the mobile experience – laptop, tablet, phone – increases in importance. This is why distribution channels – how we get our content to audiences – must be a priority for all PSM going forward.
The EBU was established almost 70 years ago and most of its members are national media organisations. In your opinion, what is the impact of globalisation on national audiences and would this category of consumers continue to be relevant in the future?
In our experience, national content continues to be the preferred choice watched by audiences in each national market. That's clear when looking at the most watched programmes in every single European market: with very few exceptions, local content dominates.
In whatever genre you look at, we have found that much of most-watched content is sport, where people typically follow their local or national teams. Also, in fictional story-telling and dramas, local stories tend to be more successful than international fiction. Of course, there are international hits but these have not overtaken local sense of place and identity which makes regional drama so popular.
National news predominates, produced by national broadcasters about mainly national topics. And even in entertainment, while international formats dominate in many markets, they are produced locally, with local talent and frequently adapting content to local specificities.
In that sense, local content for local audiences continues to be a very attractive proposition.
Galerija slika: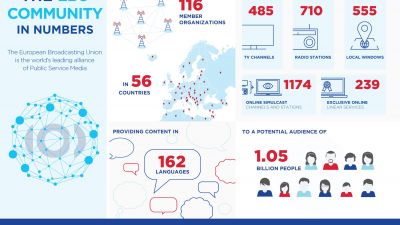 Povratak na Fokus