QUARESMA – ROMSKI KORJENI
14. 10. 2020.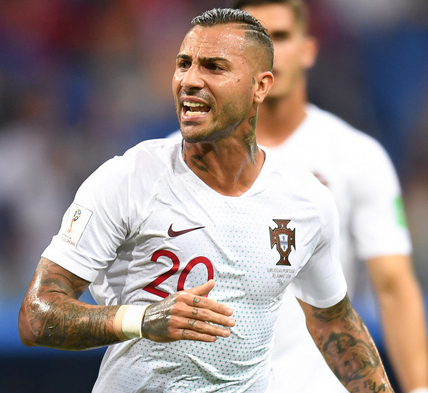 QUARESMA - OD NIČEG DO ZVIJEZDA
Predstojeći Eurokup u nogometu, koji će se održati naredne godine, prilika je da se podsjetimo prethodnog Eurokupa, održanog 2016. godine, kada je Portugal postao prvak. Jedan od junaka iberijskog tima bio je Ricardo Quaresma, vješt desni krilni igrač, romskog podrijetla, rođen u Lisabonu.
Autor: Stefano Cherubini
Prijevod: Zvonimir Rajković
Nažalost, svi bismo se mogli sjetiti kako je Hrvatska eliminirana od strane Ricarda Quaresma na kraju produžetka u 16. kolu posljednjeg Eurokupa. Ne samo da je bio heroj utakmice, već je i asistirao, na njemu je bilo osam prekršaja, a kvalitet je pokazao u samo 286 minuta koliko je u Eurokupu ukupno odigrao. U četvrtfinalu Kupa, bio je ključna osoba za kvalificiranje Portugala u polufinale, postigavši odlučujući gol iz kaznenih udaraca na kraju takmice, zbog čega su ga fanovi još više zavoljeli. Pokazao se nevjerojatnim i u finalu protiv Francuske kada je zaigrao umjesto legendarnog Cristiana Ronalda, koji je zbog ozljede morao napustiti teren u 25. minuti prvog poluvremena.
Tridesetšestogodišnjak, trenutno krilni igrač Kasımpaşe S. K., odrastao je u skromnim životnim uvjetima, s majkom Romkinjom i ocem Portugalcem. U jednom intervjuu ponosno je govorio o tome: "Nikad nije nedostajalo ljubavi i hrane na stolu. Moja majka radila je tri posla i nikada nije dopustila da mi bilo što nedostaje. Kad sam počeo samostalno zarađivati, novac sam uvijek donosio kući. Ne možete zaboraviti one koji vam pomažu. Božja je volja da moja djeca nikada ne vide ono što sam ja video. Kad bih morao umrijeti za bilo koga od njih, odmah bih to učinio."
Ricardo Andrade Quaresma Bernardo rođen je 26. rujna 1983. godine, kao sin Fernande Marie Pereira Martinho Andrade. Njegova majka govorila je o strasti koju je Ricardo od malih nogu imao prema nogometu, rekavši kako se "pretvarao da ide na nastavu, ali zapravo je išao samo igrati nogomet." Čak i nakon što je postao uspješan i postigao sjajnu karijeru, prema njezinim riječima: "vrlo je skroman i sluša moje savjete." Na lijevoj nozi ima tetovažu majčinog lika, a na desnoj ruci istetovirano njezino ime.
"O Cigano" ('Ciganin'), kako ga u Portugalu od milja nazivaju, oduvijek je bio ponosan na romske korijene koje ima. Mnogo puta govorio je o diskriminaciji koju je pretrpio zbog svog romskog podrijetla: "U očima drugih uvijek sam bio kriv. Postoje ljudi koji kažu da nema rasizma, ali to nažalost nije točno. Jednog dana nestao je kaput u školi. Roditelji su ubrzo počeli govoriti da je to, bez sumnje, djelo 'Ciganina'. Kasnije je istina izašla na vidjelo i shvatili su da to nema nikakve veze sa mnom. Ponosan sam na to što jesam." "U svijetu nogometa poznat sam po mnogim stvarima. Ali nikad nisam pušio. Nisam ni pio, niti što drugo eksperimentirao. Ali to oni pretpostavljaju zato što sam iz siromašne četvrti i 'Ciganin'..."
Quaresma tvrdi kako se ne vrijeđa kad ga ljudi pokušavaju uvrijediti zbog njegove nacionalne pripadnosti: "Koristili su riječ 'Cigan' kako bi me uvrijedili, ali nisu uspjeli jer ja sam ponosan na to što sam 'Cigan'. Ne postoje sretniji ljudi."
Quaresma je primjer rada na sebi, predanosti i talenta i pruža sjajan primjer svim Romima i onima koji živje u teškim životnim uvjetima. Možda bi uspješni primjeri mogli pomoći društvu u razumijevanju kako ekonomske nejednakosti dovode ljude u zaista nepovoljan položaj koji ne bi trebao pogoršavati rasizmom, ksenofobijom ili bilo kojim drugim oblikom diskriminacije. Trebali bismo razumjeti naše kulturne razlike i boriti se za ravnopravniji, ujedinjeniji i solidarniji svijet.
Za više informacija: https://www.youtube.com/watch?v=2ZVd_83BoQ4
Quaresma - from nothing to the stars
With the new Eurocup coming up next year it is a good opportunity to remember the last one in 2016 in which Portugal were champions. One of the heroes of the Iberic team was Ricardo Quaresma, the skillful right winger born in Lisboa with Roma roots.
We could all sadly remember the elimination of Croatia by him almost at the end of extra time in the round of 16 of the last Eurocup. He not only had that heroic moment, but also provided an assist, received 8 fouls and showed glimpses of quality in the only 286 minutes he played in it. In quarter finals, he gave the qualification to the semifinals to Portugal by scoring the definitive penalty kick in the penalty shootout, increasing even more the love of the fans for him. Even in the final against France, having to fill gigantic shoes such as Cristiano Ronaldo's, who had to leave the pitch in the minute 25 of the first half due to an injury, showed an amazing display.
Coming from a really humble background, with a Roma mother and Portuguese father, in an interview, the 36 year old Kasımpaşa S.K's winger proudly stated: "I never lacked love and food on the table. My mother, who had three jobs, never let me have any kind of lack. When I started to make money it was always for the house. You can't forget who helps you. God willing my children never see what I saw. If I had to die for any of them, I would do it right now."
Born with the name Ricardo Andrade Quaresma Bernardo the 26 of September of 1983, son of Fernanda Maria Pereira Martinho Andrade who has mentioned before about the passion he had from young age for football, saying that "he pretended to go to classes but actually went there just to play football." Even after being successful and achieving a wonderful career, according to her: "he is very humble and listen to my advices." He has a tattoo of his mother in his left leg, and a tattoo of her name in his right hand.
"O Cigano" (the Gypsy) as he is dearly nicknamed in Portugal, has always been proud of his Romani roots. He has spoken many times of the discrimination suffered by his ethnic background: "In the eyes of others, I was always guilty. There are people who say there is no racism, but unfortunately that is not the case. One day a coat disappeared at school. The parents soon began to say that, without a doubt, it must have been a thing of the Gypsy. Later, the truth came to light and they realized that it had nothing to do with me. I feel proud of who I am." "In the Football world I am known for being many things. But I never smoked. Neither did I drink alcohol or experimented anything. They presume it because I am from a poor neighborhood and Gypsy…"
He states that he does not get offended when people use his background as a way to insult him: "They have used the word "Gypsy" as a way to offend me, but they are wrong as I am proud to be a Gypsy. There is no happier people."
Quaresma is an example of self-improvement, dedication and talent, setting a great example for all Roma people and those coming from a difficult background. Maybe successful examples as this might help societies to understand that economic inequalities are already putting people in a really complicated position which should not be made worse by racism, xenophobia or any other form of discrimination. We should understand our cultural differences and struggle for a more equal, united and solidary world.
For more info: https://www.youtube.com/watch?v=2ZVd_83BoQ4
Galerija slika:
Povratak na zanimljivosti