ZAVIRIMO U JAPANSKU NOVOGODIŠNJU TRADICIJU
5. 1. 2022.
NOVOGODIŠNJE TRADICIJE U JAPANU
Japan je svijet čudesa koji privlači mnoge zainteresirane na otkrivanje njegove prirode i običaja. Kad se radi o proslavama, Japanci vole velike proslave – hrana, kostimi, boje, ukrasi, festivali… Kako onda oni slave Novu godinu?
Autorica: Maria Nikiforova
Prijevod: Antonia Mudrovčić
Japan je svijet čudesa koji privlači mnoge zainteresirane na otkrivanje njegove prirode i običaja. Kad se radi o proslavama, Japanci vole velike proslave – hrana, kostimi, boje, ukrasi, festivali… Kako onda oni slave Novu godinu?
Japan je 1872. godine službeno zamijenio lunisolarni kalendar s gregorijanskim kalendarom. Zbog toga Zemlja Izlazećeg Sunca (kako mnogi nazivaju Japan) slavi Novu godinu 1. siječnja, zajedno s većinom svijeta. Prema kineskom lunisolarnom kalendaru Nova godina u Japanu slavila se početkom proljeća. Zanimljiva je činjenica da, iako su usvojili gregorijanski kalendar, Japanci s vremena na vrijeme upotrebljavaju tradicionalna imena japanske ere za imenovanje godina. Na primjer, novi je japanski car došao na vlast 2019. godine, a nova 2022. godina će biti četvrta godina otkako je novi car na vlasti. Japanci će slaviti Reiwu 4 ove godine (Reiwa je ime nove ere japanske povijesti koja počinje od 2019. godine dolaskom cara Naruhita na vlast).
Japanska riječ za Novu godinu je 正月, što se obično izgovara kao 'Shōgatsu', a prevodi se kao "prvi mjesec u godini". Obično su datumi prije i poslije Nove godine državni praznici, počevši od 29. prosinca pa sve do 3. siječnja. Krajem prosinca ljudi počinju pripreme za velike zimske blagdane čišćenjem kuće, kupovinom poklona i blagdanskih čestitki, pripremom blagdanske hrane, ukrašavanjem svoje okoline, posjećivanjem obitelji, molitvom u svetištima, i oblačenjem u tradicionalnu odjeću.
Japanci 31. prosinca posjećuju svoju obitelj ili se okupljaju s prijateljima kako bi dočekali Novu godinu. Hrana je glavno obilježje blagdana. Neka se jela pripremaju unaprijed, a neka se pripremaju na taj dan. Nekada ljudi kupuju hranu baš 31. prosinca pa su redovi u supermarketima na svim blagajnama ogromni. Glavna žena u kućanstvu (obično majka) priprema jela za blagdanski stol. Ljudi se obično okupljaju za večeru oko 18 ili 19 sati.
Kad se ljudi okupljaju sa svojom obitelji oni obično ostanu kod kuće i cijeli dan gledaju TV. Najpopularnija novogodišnja TV emisija u Japanu je 'Kōhaku'. Emisija poziva najbolje glazbene umjetnike u toj godini da nastupe. Oni su obično podijeljeni u dva tima – crveni tim za umjetnice i bijeli tim za umjetnike. Za umjetnike koji nastupaju u ovoj emisiji to je vrlo prestižno jer na emisiju mogu doći samo ako su dobili pozivnicu. Emisija se počela prikazivati na TV-u i radiju od 1953., a i dalje je vrlo popularna i omiljena. Na TV-u se za Novu godinu može gledati i Carev kup – japansko nogometno natjecanje čija se završnica održava na dan Nove godine još od 1969 godine.
31. prosinca ljudi jedu tradicionalnu hranu i gledaju TV, a kad se počinje bližiti ponoć, obitelji odlaze u svetišta i hramove. Prvi posjet budističkom hramu ili šintoističkom svetištu zove se 'Hatsumōde'. Nova godina se pozdravlja sa 108 zvonjava zvona. Prema budističkom vjerovanju, osoba je opterećena sa 108 iskušenja, a zvonjava zvona 108 puta trebala bi protjerati sve brige. Dolaskom Nove godine Japanci posvećuju mnogo pažnje svemu što rade prvi put u godini – prvom odlasku na sveto mjesto, prvom izlasku sunca, prvom radnom danu, prvom obredu ispijanja čaja, itd. Ljudi obično posjećuju hramove ili svetišta koja su najbliža njihovim kućama. Ponekad se pali i veliki krijes pored hrama ili svetišta, i Nova godina dočekuje se zajedno sa susjedima. Nakon što poslušaju zvonjavu zvona, obitelji se vraćaju kućama i uživaju u još jednom obroku.
Svake godine 2. siječnja japanski car i japanska carica primaju novogodišnje čestitke koje im ljudi upućuju, a car se obraća narodu prigodnim govorom. Tradicija čestitanja Nove godine caru seže u 1948. godinu, ali tek 1951. godine car i njegova žena pojavili su se prije nego narod. 2020. godine više od 68000 ljudi posjetilo je Carsku palaču kako bi čuli carev govor, a 2021. godine posjet je bio otkazan zbog koronavirusa.
UKRASI
Glavno novogodišnje obilježje Japana je 'kadomatsu', što se prevodi kao "bor uz ulaz". Značenje mu je doslovno zbog toga što se ti ukrasi nalaze baš uz ulaz u kuće i druge zgrade. Ovo obilježje šintoističke religije obično je napravljeno od bora, bambusa ili paprati i povezano je slamnatim užem. Ove biljke imaju simboličko značenje u japanskoj kulturi. Na primjer, bor predstavlja postojanost i upornost, a i izražava želje za zdravljem i napretkom. U japanskoj književnosti i umjetnosti stoljetni bor predstavlja dugovječnost, hrabrost i moralnu izdržljivost. Bambus u japanskoj kulturi također simbolizira čvrstinu i hrabrost u suočavanju s nedaćama, rastom i napretkom. Paprat predstavlja čistoću i plodnost.
Mnogi od ovih ukrasa postavljaju se u paru (predstavljajući muškarca i ženu) kao simboli koji dočekuju "kamija" (japanska riječ za boga) i duhove predaka. 'Kadomatsu' se sastoji od tri dijela koji predstavljaju nebo (najviši dio), čovječanstvo i zemlju (najniži dijelovi). Ponekad je 'Kadomatsu' pretvoren u svetište koje se čuva za duhove i gdje se nudi hrana – juha 'zōni' i rižini kolači 'mochi'.
Još jedan tradicionalni ukras koji je zapravo hrana je 'kagami mochi' – "zrcalni rižin kolač", koji se sastoji od dvaju okruglih rižinih kolača ('mochi') različite veličine i naranče ('daidai') na vrhu. Ponekad se ispod rižinog kolača stavlja list algi ili ražnjić sa sušenim dragunom. U današnje vrijeme ta se dekoracija radi uglavnom od plastike.
'Kagami mochi' bi trebao držati vatru dalje od kuće u nadolazećoj godini. Dva rižina kolača mogu simbolizirati sljedeće: prošle i nadolazeće godine, Mjesec i Sunce, Jin i Jang, itd. Naranča simbolizira nastavak obiteljske loze. Dekoracija s hranom se obično stavlja na šintoistički oltar u domaćinstvu ili u neku od glavnih prostorija kuće. Postoji također i troslojna varijanta "kagami mochija" koja se koristi u ukrašavanju kuhinje. Ova desertna dekoracija se obično jede drugu subotu ili nedjelju u siječnju tokom šintoističkog rituala "kagami biraki" – otvaranje ogledala. Oblik ogledala u ovom ukrasu inspiriran je okruglim bakrenim zrcalom iz 14. stoljeća koje je imalo vjerski značaj.
Još jedan tradicionalan ukras je "shimekazari", sličan prstenastom vijencu koji na Zapadu ukrašava vrata. "Shimekazari" je može staviti i na vrata kako bi privlačio bogove koji donose sreću i odbijao zle duhove. Napravljen je od nanizanih stabljika riže, papira s cik-cak uzorkom i borovih iglica, a ponekad i naranči. Papir cik-cak uzorka simbolizira kišu, koja je potrebna kako bi se uzgojila tradicionalna japanska hrana – riža.
Također postoji i tradicija ukrašavanja kuća s "mochibanom" – bambusovim ili vrbinim granama s kojih visi "mochi" u obliku ribe, voća, cvijeća, itd. Ovi šareni "mochiji" najčešće se objese na strop koji se nalazi do ulaza. To se radi zato da duh Nove godine, Toshigami, vidi dekoraciju i ona ga podsjeti na to da čuva domaćinstvo i obitelj tokom nadolazeće godine. Do kraja proslave Nove godine svaki član obitelji mora pojesti onoliko "mochibana" koliko ima godina te godine.
Japan je utjecajem Zapada usvojio i zapadnjački način ukrašavanja i zapadnjačke dekoracije. Božićna drvca i ostale dekoracije nisu tako uobičajeni u japanskim domaćinstvima, ali mnogo robnih kuća i poduzeća koriste se mnogim elementima zapadnjačkog načina ukrašavanja.
TRADICIONALNA ODJEĆA
Kimono je tradicionalna japanska odjeća koja se može posebno izrađivati za razne prigode. U prošlosti kimono je bio uobičajena odjeća za sve ljude koji žive u Japanu. Japanci se i danas vole oblačiti u raznobojna kimona za proslave. Postoje različite vrste kimona i osoba može odabrati onaj koji joj se najviše sviđa. Ljudi obično nose kimono za vrijeme svog prvog posjeta svetištu ili hramu za Novu godinu, ali to nije obavezno.
Nošenje kimona nije obavezno. Međutim, pozdravlja se nošenje nove odjeće za proslavu Nove godine zbog toga što to predstavlja čistoću, a to je vrlo važno u Japanu.
HRANA:
Izbor jela koji je karakterističan za japanske novogodišnje stolove zove se "osechi- ryōri". Ova su jela slatka, kisela ili su sušena kako bi se mogla očuvati bez spremanja u hladnjak zbog toga što je ova tradicija nastala u vremenima kad ljudi nisu imali hladnjake. Izbor hrane razlikuje se od prefekture (regije u Japanu) do prefekture. Većina novogodišnjih stolova sadrže: kuhanu morsku travu, riblje pite, pire od batata s kestenom, kuhani korijen čička i slatka crna zrna soje.
Jedno tradicionalno jelo već ranije spomenuto u ovom članku je "zōni" – juha s rižinim keksima. Način kuhanja "zōnija" različit je u različitim kućanstvima. Vjeruje se da "zōni" potječe iz vremena samuraja, kad se juha kuhala na bojištima.
Sedmi dan nove godine Japanci pripremaju juhu od riže sa 7 vrsti biljaka kako bi oporavili želudac nakon gozbe hranom.
Što se deserta tiče, najpopularniji su rižini kolači ili "mochi", koji mogu biti različitih okusa i varijanti. "Mochi" za Novu godinu predstavlja želju za napretkom, bogatstvom i dobrom žetvom sljedeće godine. Od ranih vremena "mochi" se povezivao s okruglim zrcalima - obaveznim atributima koji su se pripisivali japanskoj božici Amaterasu.
IGRE I DRUGI OBIČAJI
Tradicija igranja igara na Novu godinu vrlo je rasprostranjena u Japanu. "Hanetsuki" je tradicionalna japanska igra koja podsjeća na badminton, a igra se bez mreže. Reketi za igru su pravokutna drvena vesla, a loptica je raznobojna. Igru može igrati jedna osoba tako da odbija lopticu reketom i ona se vraća, ili ju mogu igrati dvije osobe. Onog igrača kojem loptica ispadne namaže se tintom po licu. Vjeruje se da što duže igrači igraju, duže će biti zaštićeni od komaraca u nadolazećoj godini.
Ostale igre su: "uta garuta" – kartaška igra, igra na ploči "sugoroku"; puštanje zmaja; zvrk (igračka), "fukuwarai" – igrač koji ima povez na očima mora papiriće s dijelovima lica staviti na odgovarajuće mjesto na crtežu lica na papiru.
Dobro poznati novogodišnji običaj iz Japana je "otoshidama". Djeca dobivaju novce od odraslih. Novac se stavlja u posebne omotnice. Obično je svota novca koju dijete dobije jednaka dobi djeteta.
Još jedna fascinantna i veoma popularna tradicija u modernom Japanu je "fukubukuro". "Fukubukuro" je vreća sa nepoznatim stvarima koje se nalaze unutra, a obično se prodaje uz veliki popust, 50% i više. To je postalo jednom od najpopularnijih tradicija u Japanu u posljednjih nekoliko godina. Svi dućani i poduzeća žele prodavati "fukubukuro". Ljudi žele kupiti ove vrećice s nepoznatim stvarima unutra jer ponekad se može cjenkati kako bi se spustila cijena. Obično je cijena proizvoda u vrećici jednaka ili veća od cijene "fukubukura". Koncept "fukubukura" osmislila je krajem 19. stoljeća jedna japanska robna kuća.
Iako se Nova godina slavi zimi, daje osjećaj topline zbog toga što obitelji i prijatelji obično provode ovaj praznik zajedno, pružajući ljubav jedni drugima. Isti ovaj osjećaj prisutan je i u Japanu.
Fukubukuro, Photo by Chris 73 via Wikimedia
Japan is a world of wonders that attracts many interested eyes to discover its nature and customs. When it comes to celebrations, Japanese like to go big - food, costumes, colors, decorations, festivals… So how do they celebrate New Year?
In 1872 Japan officially replaced the lunisolar calendar and adopted the Gregorian calendar, that's why the Land of the Rising Sun (as many call Japan) celebrates New Year together with most of the world on January 1. Previously New year in Japan according to the Chinese lunisolar calendar was celebrated at the beginning of spring. A curious fact is that even though the country adopted the Gregorian calendar, from time to time Japanese use traditional Japanese era names for years. For example, the new emperor of Japan came to reign in 2019, so as the upcoming 2022 year will be the fourth year of the new emperor's reign - Japanese people will be celebrating 'Reiwa' 4 this year ('Reiwa' stands for the new era of Japanese history starting from 2019 with emperor Naruhito).
The Japanese word for New Year is 正月 which is pronounced as 'Shōgatsu' and translated as the 'first month of the year'. Usually the dates prior and post New Year are Public Holidays - starting from December 29 up to January 3. By the end of December people start to prepare for a major winter holiday by cleaning their houses, buying presents and holiday cards, preparing holiday food, decorating their surroundings, visiting families, praying in shrines, and dressing up in traditional clothing.
On 31 of December Japanese either come visit their parents or gather with their friends for celebrations. The main attribute of the Holiday is food – some dishes are prepared in advance, others are prepared at the same day. Sometimes people end up buying food on the 31st so supermarkets have huge lines for all the cash desks. The main woman of the household (usually the mother) prepares dishes for the Holiday table. Households usually gather for dinner after 6-7 pm.
When people gather with their family they usually stay at home, watch TV all day – the most popular New Year TV show in Japan is 'Kōhaku'. The show invites to perform the best music artists of the year – they are usually divided into two teams – 'red' team for female artists, 'white' for male. It is believed to be highly prestigious for artists to perform on this show, as they can get there only by invites. The show started to air on TV and radio from 1953, and it still remains Japanese favorite. Another good thing to watch on TV on New Year's day is the Emperor's Cup Soccer – it's a Japanese football competition, which final takes place on New Year's Day since 1969.
On December 31st people eat all traditional foods, watch TV and when time comes closer to midnight, families go to shrines and temples. The process of the first visit to a Buddhist temple or a Shinto shrine is called 'Hatsumōde'. New Year is met with 108 bell tolls, as according to Buddhist beliefs a person is burdened with 108 temptations - a bell toll is supposed to banish a worry. With the coming of New Year, Japanese pay attention to all the first times of the year - first visit to a sacred place, first sunrise, first work day, first tea ceremonies, etc. People usually visit the closest shrine or temple to their house, sometimes big bonfires are lit next to the temples or shrines and the New Year is met together with the neighbors. After hearing the bell tolls, families return to their houses and enjoy another meal.
Every year on January 2nd the Emperor and Empress of Japan receive New Year Greetings from the people, where the Emperor addresses the nation with a speech. The tradition of people greeting the Emperor on New Year dates back to 1948, but it was only the year of 1951 when the Emperor and his wife appeared before the public. In 2020 more than 68,000 people visited Emperor's Palace for the speech, in 2021 the visit was cancelled because of COVID-19.
DECORATIONS
The main New Year attribute for Japan is 'kadomatsu' which is translated as 'a pine by the entrance' and stands for its translation, as these decorations are placed exactly by entrances to people's homes and other buildings. This attribute of Shinto religion is usually made out of a pine, a bamboo or a fern which are held together by a straw rope. These plants have a symbolic meaning in Japanese traditional culture: for example, pine embodies permanence and persistence, additionally it expresses wishes of health and prosperity. In Japanese literature and arts a century-old pine represents longevity, courage and moral stamina. Bamboo in Japanese culture also symbolizes fortitude and courage in the face of adversity, growth and prosperity; fern stands for purity and fertility.
Mostly these decorations are placed in pairs (representing a woman and a man) as symbols of welcoming 'kami' (Japanese word for god) and ancestral spirits. 'Kadomatsu' consists of three pieces representing heaven (the highest piece), humanity and earth (the lowest piece). Sometimes 'kadomatsu' is transformed into a sanctuary which is neatly kept for spirits, where people make traditional food offerings of a soup 'zōni' and rice cakes 'mochi'.
Another traditional Japanese decoration is actually food – 'kagami mochi' - 'mirror rice cake', which consists of two different sized round rice cakes ('mochi') and an orange ('daidai') on top. Sometimes a sheet of kelp or a skewer of dried persimmons is placed on the bottom under the mochi. Nowadays the decoration is widely made from plastic.
The 'kagami mochi' is supposed to keep fire away from one's house for the upcoming year. The two rice cakes can symbolize the following: the past and coming years, the moon and the sun, the 'yin' and 'yang', etc. The orange represents the continuation of a family from a generation to generation. The food decoration is usually placed in a household Shinto altar or in main rooms of houses. There is also a three layer variant of 'kagami mochi' which is usually used in decorating kitchens. This dessert-decoration is usually eaten on the second Saturday or Sunday of January during a Shinto ritual 'kagami biraki' - mirror opening. A concept of mirror in this decoration comes from a round copper mirror from the 14th century which had a religious significance.
Another traditional ornament is 'shimekazari' which one can find similar to Western wreath ring trees that are decorating doors. 'Shimekazari' is likewise put on doors to attract gods of good fortune and repel evil spirits. It is made of rice straw string with zigzag paper and pine leaves, sometimes oranges. Zigzag papers represent rain, which is needed to harvest traditional food of Japan - rice.
There is a tradition to decorate houses with 'mochibana' - bamboo or willow branches with mochi hanging from them in shapes of fish, fruits, flowers, etc. These colorful mochis are usually hung on the ceiling by the entrance, so that when the spirit of New Year - Toshigami - sees this decoration, it reminds the spirit to take care of the household and the family during the upcoming year. By the end of New Year each member of the family eats a number of 'mochibanas' that reflects his/her age at that year.
Of course with the influence of the West modern Japan also uses western decorations. While Christmas trees and other decorations are not as common in Japanese households, a lot of department stores and businesses put up different elements of western Christmas decorations.
TRADITIONAL CLOTHING
Traditional Japanese clothing is 'kimono', which can be specially made for different occasions. In past times 'kimono' was a common clothing for all the people living in Japan. To this day Japanese people love to dress up in colorful 'kimonos' for celebrations. There are different types of 'kimono' and one can choose what he likes the best. People usually, but not necessarily wear 'kimono' during their first visit to a shrine or a temple for New Year.
Of course wearing a 'kimono' is not obligatory. However it is welcomed to wear all new clothes for the New Year celebration as a representation of cleanliness which is a big deal in Japan.
FOOD:
The selection of dishes that is common for Japanese New Year tables is called 'osechi-ryōri'. Traditionally these foods are made sweet, sour or dried to be able to be kept without the refrigerators, as the tradition for these foods started back at the times when families didn't have refrigerators. The combination of foods varies from prefecture (region in Japan) to prefecture. Most tables at New Year have dishes with boiled seaweed, fish pies, sweet potato puree with chestnuts, boiled burdock root, and sweet black soybeans.
One of the common foods mentioned above in this article is 'zōni' - a soup with rice cakes. The way of cooking 'zōni' also varies from different households. It is believed that 'zōni' dates back to samurai times, when the soup was cooked on battlefields.
On the seventh day of New Year, Japanese prepare a seven-herb rice soup to help the stomach rest after a feast of food.
As for dessert - the most popular are the rice cakes or 'mochi', which also come in different variations and tastes. 'Mochi' for New Year is a wish for prosperity, wealth and a good harvest next year. Since early days, round 'mochi' have been associated with round mirrors - the obligatory attributes of the Japanese goddess Amaterasu.
GAMES AND OTHER CUSTOMS
There is a big tradition of playing games for New Year holidays in Japan. 'Hanetsuki' is a traditional Japanese game that resembles badminton and is played without a net. Rackets for the game are rectangular wooden paddles, shuttlecock is colored in bright colors. It can be either played by one person trying to keep shuttlecock bouncing or by two people bouncing it to each other. Players that drop the shuttlecock are marked on the face with ink. It is believed that the longer players can keep playing, the longer they will be protected from mosquitoes in the upcoming year.
Other games are: 'uta-garuta' - a card playing game; a board game of 'sugoroku'; kite flying; spinning top; 'fukuwarai' - a blindfolded player has to put paper face parts on a paper face, etc.
A well-known custom for New Year in Japan is 'otoshidama' when children receive money from adults. Money is placed in special envelopes. Usually the amount of money equals the age of a child.
Another fascinating and widely popular tradition in modern day Japan is 'fukubukuro'. 'Fukubukuro' is a bag with unknown goods inside, usually sold with a big sale - 50% off and more. It became one of the most popular traditions in Japan over the last years - all stores and businesses try to participate in selling 'fukubukuro', and of course people are willing to buy these bags of unknown goods because sometimes you can get a really great bargain. Usually the price of the item inside the bag equals or higher than the price of the 'fukubukuro'. The concept of 'fukubukuro' was invented in the late 19th century by one of the Japanese department stores.
Even though New Year is celebrated in winter, it gives a sense of warmness because families and friends are usually spending this holiday together, treating each other with love. This same feeling for New is also traced in Japan.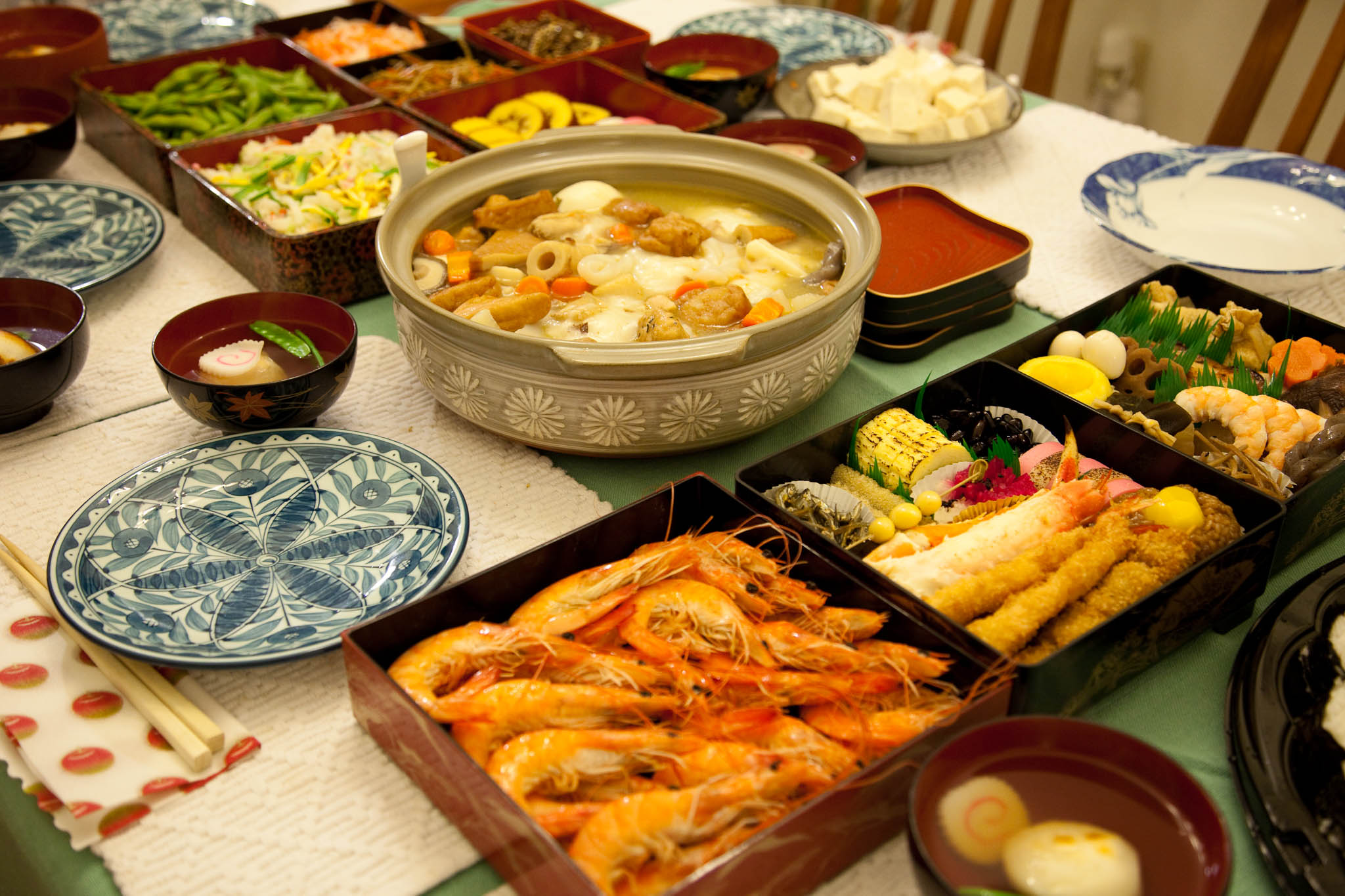 Osechi ryori, Photo by Dave Nakayama via Flickr
Galerija slika:
Povratak na zanimljivosti