50. GODIŠNJICA PRVOG SVJETSKOG KONGRESA ROMA
8. 4. 2021.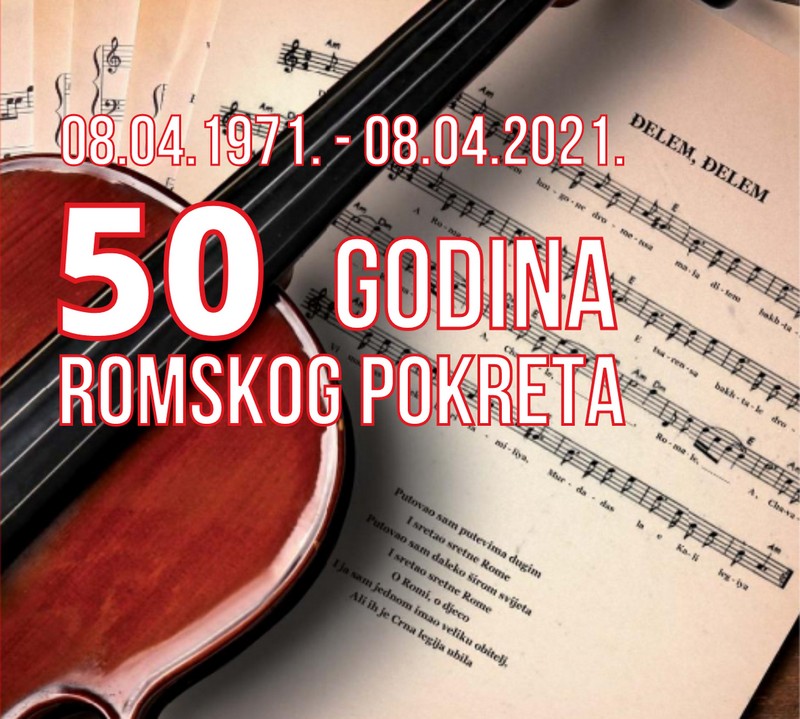 50 GODINA MEĐUNARODNOG ROMSKOG POKRETA
Danas obilježavamo 50. godišnjicu prvog Svjetskog kongresa Roma, koji je prvi put održan u južnom Londonu 1971. godine. Svjetski kongres postao je prekretnica u povijesti romskog pokreta i pridonio je internacionalizaciji romske borbe za svoja prava. Unatoč sve većoj vidljivosti, ova borba je i dalje obilježena trajnim i neriješenim izazovima.
Autor: José Alarcón Matás
Prijevod: Daria Maracheva
Razdoblje nakon Drugog svjetskog rata zahtijevalo je obnovu Europe. Uz to, zvjerstva koja su počinili nacisti pridonijela su stvaranju osjećaja kolektivne traume, posebno za manjinske skupine poput Roma koje su bile izravnom metom nacističke politike istrebljenja.
Proces oporavka Europe, potaknut Marshallovim planom koji su financirale SAD, pridonijio je integraciji Zapadne Europe i povećao je distancu od Sovjetskog Saveza i njegovih satelita. Nepovjerenje i animozitet su brzo rasli između Zapadnog i Istočnog bloka tokom Hladnog rata, što se dodatno pojačavala opasna trka za nuklearnu dominaciju. U tako napetoj atmosferi, uz postojeće ograničenje kretanja i nedostatak političke volje podržati međunarodne pokrete koji bi doveli suprotne strane za pregovarački stol, mogućnost osnivanja istinski međunarodne romske mreže bila je svedena na nulu. Tada vladajuću atmosferu je točno opisao Grattan Puxon:
"U vrijeme Kongresa kretanje u Europi otežavala je bodljikava žica i ideologije ratnog animoziteta. Iza Željezne zavjese vagonima su oduzeti kotači, a nomadski način života je zabranjen. Na Zapadu "Ciganima" je također zabranjen nomadski način života, i njihovi kampovi su uništavani".
U takvom kontekstu, ozbiljan pokušaj međunarodnog romskog pokreta bio je vrlo problematičan, s obzirom na poteškoće u šezdesetim godinama. Prethodni pokušaj napravio je Vajda Voevod uz pomoć Vanka i Leulea Rouda, koji su 1961. godine osnivali i financirali Svjetsku romsku zajednicu u Francuskoj (vjerojatno prvu međunarodnu romsku organizaciju), koju je francuska vlada raspustila 1965. godine. Iste godine braća Rouda osnovali su novi Međunarodni Ciganski odbor, koji je 1971. godine pretvoren u Međunarodni odbor Roma (Komiteto Lumniako Romano).
Sastanci u Londonu planirani su kao pripremni sastanci jer je Kongres trebao biti održan iste godine u Parizu. Međutim, s obzirom na visok odaziv i potporu koju je ovaj događaj dobio, Kongres je stekao dovoljno legitimiteta kako bi se smatrao prvim Svjetskim kongresom Roma. Proces njegove organizacije u Londonu bio je naporan s obzirom na nedostatak financijske potpore od strane službenih institucija. Grattam Puxton, glavni tajnik Kongresa, otkriva kako, suprotno općem uvjerenju, ni vlada Indije ni Svjetsko vijeće crkava nisu financirali sastanke. Umjesto toga, smještaj i hranu osigurao je Bryan Raywid, velški Putnik, koji je radio kao glavni kuhar u školi Cannock House u južnom Londonu i uvjerio je ravnatelja da dopusti okupljanja delegata u školi.
Kongresu su prisustvovala 23 predstavnika iz 9 država (Čehoslovačke, Finske, Francuske, Velike Britanije, Njemačke, Mađarske, Irske, Španjolske i Jugoslavije) kao i promatrači iz Belgije, Francuske, Njemačke, Kanade, Indije i SAD. Četiri od njih bile su žene, što je bilo neuobičajeno u to vrijeme. Napeta geopolitička situacija koju su definirale stalne tenzije između zemalja i vrlo ograničena mogućnost putovanja, ključna je za razumijevanje zašto su predstavnici ključnih zemalja s velikom romskom populacijom poput Turske, SSSR-a, Rumunjske, Bugarske i Poljske bili odsutni.
Unatoč ovom ograničavajućem faktoru, prisutnost i utjecaj jugoslavenskih delegata dali su Kongresu nadahnuće. Unatoč postojećim predrasudama i marginalizaciji, romska zajednica u Jugoslaviji bila je u relativno boljem položaju u usporedbi ne samo sa Zapadom, već i drugim socijalističkim državama poput Mađarske i Čehoslovačke, koje su provodile politiku asimilacije. Za razliku od njih, Jugoslavija je vodila politiku etničke integracije, koja je omogućavala veće političko sudjelovanje i zapošljavanje te je davala prostor pokretu romskog kulturnog aktivizma.
Na Kongresu je usvojen plan od 10 točaka koji je predložio Juan Ramírez Heredia (prvi Rom koji je postao član Nacionalnog parlamenta u Španjolskoj 1977. godine), a radilo se kroz pet radnih skupina (za socijalna pitanja, obrazovanje, ratne zločine, kulturu i jezik). Kroz njih su se delegati usredotočili na niz važnih pitanja koja bi se trebala smatrati prioritetima za romske zajednice širom svijeta.
Tokom Kongresa, Radna grupa za jezik je utvrdila ulogu koju je imao romski jezik u prošlosti, u povezivanju različitih romskih skupina koje dijele zajedničke lingvističke karakteristike.
Postignut je dogovor o priznanju svih romskih dijalekata te je prepoznata potreba uspostavljanja međunarodnog standardiziranog dijalekta romskog jezika.
U međuvremenu, Radna skupina za ratne zločine podržala je inicijativu za pripremu prve detaljne studije o nacističkim zločinima protiv Roma na temelju do tada prikupljene građe o zločinama. Drugi zaključak koji je donijela Radna skupina je da Svjeski kongres Roma nastavi napore u pomaganju Romima koji traže reparacije putem UN-a. Treći zaključak bio je da se treba podići spomenik kako bi se komimoriralo Rome koji su stradali od nacista.
Delegati okupljeni u Radnoj skupini za socijalna pitanja dogovorili su da će pripremiti izvještaj o položaju Roma koje su planirali podnijeti Vijeću Europe i UN-u 1972. godine.
Na području kulture zaključeno je kako se trebaju redovito održavati festivali romske glazbe i plesa te treba potaknuti razmjene romskih folklornih i glazbenih skupina. Uz to je zaključeno da je potrebno prikupljati i objaviti romske pjesme i priče.
Radna skupina za obrazovanje utvrdila je da sva romska djeca trebaju imati pravo na stjecanje znanja o romskoj kulturi i romskom jeziku. Također je iznesena ideja da u školama s velikim brojem romskih učenika trebaju predavati romski učitelji, te da trebaju biti provedena istraživanja i evaluacija karavan-škola za nomadske skupine.
Opća skupština Kongresa potvrdila je zaključke svih radnih skupina.
Kongres je usvojio niz važnih odluka. Usvojena je romska zastava s plavom i zelenom bojom i kotačem u središtu (koji simbolizira romsku nomadsku baštinu). Riječ ''Romi'' izabrana je kao krovni pojam kako bi se izbjeglo rasprostranjenog negativnog značenja koje se tradicionalno povezuje s pojmovima poput "Gypsy", "Ciganin" ili "Zigeuner". Tokom organiziranog posjeta Birminghamu delegati su se pridružili demonstrantima koji su prosvjedovali protiv protjeranja Putnika. Puxton se prisjeća kako je glazbenik Žarko Jovanović napisao stihove pjesme Đelem, Đelem na stražnjem sjedištu autobusa na putu u Birmingham. Pjesma je postala romskom himnom.
Svjetski kongres Roma 1971. godine smatra se uspjehom, i dao je poticaj brojnim aktivnostima i organizacijama koje su iznosile zahtjeve Roma širom svijeta. To je bio važan korak u stvaranju ujedinjene platforme koja je imala dovoljno legitimiteta i znanja za promoviranje romskih pitanja na međunarodnoj razini. Kongres je rezultirao osnivanjem međunarodne romske krovne organizacije, — Međunarodne romske unije (IRU).
Nakon Londona, svjetski kongresi Roma održani su u Ženevi, Švicarska (1978.); Gottingenu, Njemačka (1981.); Serocku, Poljska (1990.); Pragu, Češka (2000.); Lancianu, Italija (2004.); Zagrebu, Hrvatska (2008.); i u Sibiu, Rumunjska (2013.).
Iako je treći Svjetski kongres Roma u Njemačkoj bio od oznimne važnosti za iznošenje zahtjeva njemačkoj Vladi za priznavanje nacističkih zločina protiv Roma i vezanih s tim reparacija, naredni kongresi stavili su, pored ostalog, veći naglasak na pitanja poput pravnog priznanja prava nacionalnih manjina, društvenog i ekonomskog poboljšanja položaja Roma i transgranične prirode romske nacije. Tokom četvrtog Kongresa u Poljskoj (1990.) donijeta je odluka o službenom proglašenju 8. travnja Svjetskim danom Roma.
Pedeset godina nakon tog simboličnog i važnog datuma, uravnotežen pogled na postignuća pokreta i izazove koji su ostali neriješenim je od presudne važnosti. Bez ikakve sumnje, procvat proromskog aktivizma i romskih nevladinih organizacija tokom proteklih desetljeća rezultirao je većom vidljivošću romske borbe, koja je ranije bila uglavnom zanemarena. Ovom procesu je također doprinijela institucionalizacija zahtjeva Roma na razini EU, koja je postala platforma za stvaranje politika koje imaju za cilj poboljšanje položaja Roma, barem u teoriji.
Istovremeno, kritičari ističu sve veću rascjepkanost romskog pokreta, izostanak sadržajne suradnje među organizacijama, stvaranje okruženja u kojem se nevladine organizacije i mreže aktivista međusobno natječu za priznanje, resurse i sredstva. Problem nelegitimne zastupljenosti, kontrole proromskih organizacija od strane elita, naglog porasta broja nevladinih organizacija, donatorski pristup za razliku od onog koji se fokusira na stvarne potrebe zajednica te neuspješna integracije Roma kao istinskih subjekata i doprinositelja vlastitoj političkoj borbi ukazuju na krizno stanje unutar romskog pokreta u cjelini.
Problem je i da elite tvrde da govore u ime romskih zajednica, od kojih su sve više odvojene i u kojoj se mnogi izabrani romski predstavnici ponašaju nedemokratski. Iako imaju određenu razinu moći, često ne uspijevaju pretvoriti svoje zahtjeve u konkretna poboljšanja. Problem je i nesposobnost romskih i proromskih organizacija da ujedine napore na međunarodnoj razini i riješavaju hitne izazove.
Gledajući na ogroman broj postojećih istraživanja, političkih smjernica i preporuka koje se odnose na Rome, a onda uspoređujući to s vrlo lošim materijalnim položajem romskih zajednica gotovo svugdje, moglo bi se zaključiti da su Romi često korišteni kao puki objekti istraživanja ili su iskorišteni za opravdanje postojanja neučinkovitih romskih i proromskih organizacija.
Skretanje pažnje na ove probleme potrebno je danas kako bi se održali napori koji su pokrenuti prije pedeset godina od strane onih koji su dijelili viziju da je drugačiji odnosno bolji život Roma moguć u cijelom svijetu.
Delegati koji su sudjelovali na Svjetskom kongresu Roma 1971. godine bili su: Vanko Rouda, Leule Rouda (Međunarodni Ciganski odbor); S. Holomek, A. Daniel, R. Demeter (Čehoslovačka); Viljo Koivisto (Finska); Latif Ajda, Kuna Beget, Alti Imer, Maissa Rouda, Mateo Maximoff (Francuska); Grattan Puxon, Fred Wood, George Marriott, Tom Lee, Marjorie Lee (Ujedinjeno Kraljevstvo); Melanie Spitta (Njemačka); Tom Doherty (Irska); Juan de Dios Ramirez i gđa Ramirez (Španjolska), Slobodan Berberski, Nusret Sehari, Abdi Faik (Jugoslavija).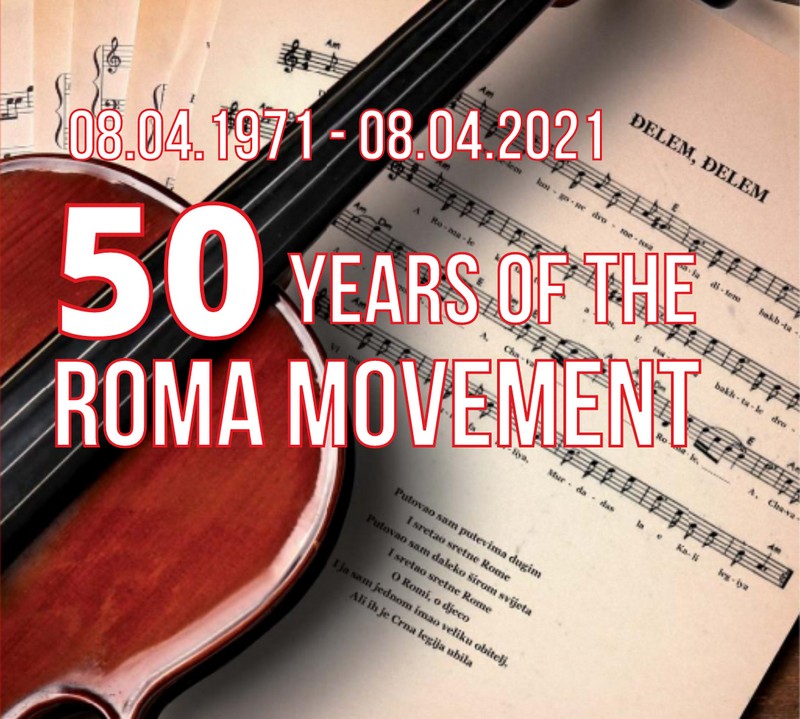 Today marks the 50th anniversary of the first World Romani Congress, celebrated in South London in 1971. It has become a landmark for the Roma movement, contributing to the internationalization of a struggle which, despite increasingly visible today, remains defined by its ongoing, unsolved challenges.
The post-World War II after 1945 period initiated an era that demanded a cautious exercise of re-construction of Europe. In addition, the atrocities perpetrated by Nazi forces had inflicted a unique sense of collective trauma, especially for minority groups such as the Roma who suffered with particular intensity.
The process of European re-building, fuelled by the US-funded Marshall Plan, integrated Western Europe and drew a distance from USSR and its satellite states. Mistrust and hostility increased rapidly between Western and Eastern spheres throughout the Cold War period, which saw a troubling race towards nuclear domination. In such a tense climate, with reduced mobility and general political unwillingness to support trans-national movements that would bring together these opposing sides, the ability to forge a truly international Roma network seemed unlikely. In the words of Grattan Puxon:
''At the time of the Congress, movement in Europe was hampered by barbed wire and ideologies at a war-footing enmity. Behind the Iron Curtain, wheels had been taken from wagons and nomadism outlawed. In the West too, Gypsies were being banned from the road and their camps destroyed.''
In such context, a serious attempt to organize a transnational Roma movement was seen as very problematic also given the witnessed difficulties in the 60s. A previous attempt had been made by Vajda Voevod with the help of Vanko and Leulea Rouda, who in 1961 funded the World Roma Community in France 1961 (arguably the first international Roma organization), but which was dissolved by the French government in 1965. That same year, the Rouda brothers created a new entity called the International Gypsy Committee, which in 1971 became the Rom International Committee (Komiteto Lumniako Romano).
The meetings in London were planned as preparatory meetings as the Congress was supposed to be celebrated in Paris that same year. However, given the high turnout and support the event received, it achieved enough legitimacy to be considered the 1st World Romani Congress. The process of organizing it in London was harduous given the complete lack of financial support from institutions. Grattam Puxton, Secretary-General of the Congress, narrates how contrary to common reports, neither the Indian Government nor the World Council of Churches founded the meetings. Instead, accommodation and catering were organized by Bryan Raywid, a Welsh Traveller who worked as a chef at Cannock House School in South London and convinced the headmaster to allow the gatherings there.
The Congress was attended by 23 representatives from 9 nations (Czechoslovakia, Finland, France, Great Britain, Germany, Hungary, Ireland, Spain and Yugoslavia) and included observers from Belgium, France, Germany, Canada, India and the United States. Four of them were women, which was itself uncommon at the time. The harsh geo-political environment of the Cold War, still defined by ongoing tensions between countries and very limited mobility, is key in explaining why representatives from key countries with large Roma populations (such as Turkey, Romania, Bulgaria and USSR) were absent.
Despite this limiting factor, the presence and influence of Yugoslav delegates provided valuable insights and inspiration to the Congress. Despite existing prejudice and marginalization in Yugoslavia, Roma communities there held a relatively better position when compared not just to the West but also with other socialist states like Hungary and Czechoslovakia, where assimilationist policies were dominant. Instead, Yugoslavia pursued generally a policy of ethnic integration, which allowed for greater political participation, active cultural Roma movements and higher employability.
A 10-point plan proposed by Juan Ramírez Heredia (who was the first Roma to become a Member of the National Parliament in Spain in 1977) and a system of five sub-commissions (social affairs, education, war crimes, culture and language) were adopted. These focused on a number of important issues to be seen as priorities for Roma communities worldwide.
During the congress, the Language sub-commission illustrated the Roma language has played an important role in the past, connecting different Roma groups that share linguistic characteristics. The agreement was reached in granting recognition to all Roma dialects, together with the need to establish an international standardized dialect. Meanwhile, the war crimes working group supported an initiative to use compiled crime material to create the first detailed study on Nazi crimes against Roma, support efforts in helping Roma to seek reparations through the UN, and build a monument to commemorate Nazi persecution suffered by Roma during WWII.
The Social Affairs working group agreed to prepare a report on the situation of Roma to be presented to the Council of Europe and the UN the following year, detailing each country's particularities regarding Roma's social position. In the Culture sub-commission, delegates concluded that a Roma music and dance festival should be celebrated regularly, and expressed the need to encourage increased cultural exchange among Roma communities. Last but not least, the Education working group established that all Roma children should have the right to learn about Roma culture and language. The idea that schools with numerous Roma students should have access to Roma teachers was also put forward, together with an evaluation of caravan schools for nomad groups. The Congress' General Assembly adopted the conclusions of all working groups.
A number of important symbolic developments that took place during the Congress are worth mentioning as well. The Roma flag, with a double blue and green strip and a wheel at the centre (symbolizing the Roma nomadic heritage), was adopted at the Congress. The designation ''Roma'' was chosen as a replacement term in order to avoid the common pejorative connotations traditionally associated with terms such as 'Gypsy', 'Cigani' and 'Zigeuner'. During the Congress' organized trip to Birmingham where representatives joined demonstrators protesting against forced evictions of Travellers, Puxton retells how artist Žarko Jovanović wrote the lyrics for Dzelem, Dzelem in the back of the coach bus on their way there. The song was to become the Roma movement's anthem.
The 1971 World Romani Congress was considered a success and provided impetus to a number of activities and groups that became influential in voicing the demands of Roma worldwide. It was a crucial step in providing a visible united platform with enough legitimacy and know-how to promote the Roma cause internationally. As a result of the Congress, an international Roma umbrella organization, the International Romani Union (IRU), was established.
Following World Romani Congresses were celebrated in Geneva, Switzerland (1978); Gottingen, Germany (1981); Serock, Poland (1990); Prague, Czech Republic (2000); Lanciano, Italy (2004); Zagreb, Croatia (2008); and Sibiu, Romania (2013). While the 3rd Congress in Germany was particularly important in voicing demands for recognition of Nazi crimes against Roma by the German government and related reparations, subsequent congresses placed a greater emphasis on issues such as legal recognition of national minority rights, the social and economic improvement of Roma and the non-territorial nature of the Roma nation, among others. During the 4th Congress in Poland, it was decided to officially declare the 8th of April as World Roma Day.
After 50 years of such a symbolic and relevant date, a balanced view of the movement's achievements and pending challenges is crucial. Clearly, the flourishing of pro-Roma activism and NGO work on Roma over the past decades have entailed increased visibilization of Roma struggles, which had remained largely ignored previously. The institutionalisation of Roma demands at EU level has also supported this process, becoming an influential loudspeaker and platform where policy-making can be shaped for the improvement of Roma, at least in theory.
At the same time, critical voices refer to the increasingly fragmented condition of the Roma movement over time, lacking meaningful cooperation among organizations, in an environment where NGOs and activist networks compete against each other for recognition, resources and funds. Issues of illegitimate representation, elitization of pro-Roma organizations, NGO-ization, a donor-oriented approach as opposed to one that focuses on the real needs of communities, and failure to integrate Roma members as true subjects and contributors to their own political struggle inevitably point to a state of crisis within the Roma movement as a whole.
This crisis is also visible as exclusive elites claim to speak on behalf of Roma communities they are increasingly disconnected from and where many elected Roma representatives follow undemocratic practices. Despite their privileged position, influence and power, they often fail to translate their demands into tangible improvements. Additionally, the inability of Roma and pro-Roma organizations to unite efforts internationally and truly address the pressing challenges in place has weakened the movement's potential.
Looking at the huge corpus of research, policy guidelines and recommendations directed at Roma that exists today, and then looking at the ongoing material deprivations of Roma communities almost everywhere, it might be tempting to conclude that the Roma have often been used as mere objects of study, or simply utilized to justify the perpetuation of inefficient Roma and pro-Roma organizations. Increased attention to these issues is urgent today in order to capitalize on the efforts made 50 years ago by those who shared the vision that a different – better – life was possible for Roma worldwide.
The delegates assisting to the 1971 World Romani Congress were: Vanko Rouda, Leule Rouda (International Gypsy Committee); S. Holomek, A. Daniel, R. Demeter (Czechoslovakia); Viljo Koivisto (Finland); Latif Ajda, Kuna Beget, Alti Imer, Maissa Rouda, Mateo Maximoff (France); Grattan Puxon, Fred Wood, George Marriott, Tom Lee, Marjorie Lee (United Kingdom); Melanie Spitta (Germany); Tom Doherty (Ireland); Juan de Dios Ramirez and Ms. Ramirez (Spain), Slobodan Berberski, Nusret Sehari, Abdi Faik (Yugoslavia).
Galerija slika:
Povratak na Fokus