OD TRNJA DO ZVIJEZDA I OBRATNO
8. 6. 2022.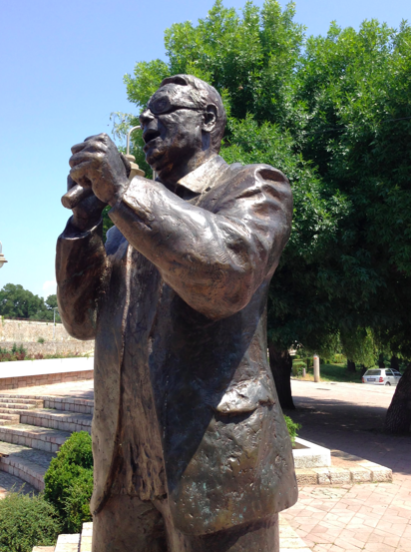 Photo by Intermedichbo-Dr Milorad Dimić, Serbia/https://commons.wikimedia.org/wiki/File:%C5%A0aban_Bajramovi%C4%87.IMG_3786.jpg
KRALJ ROMSKE GLAZBE – ŠABAN BAJRAMOVIĆ
Kralj romske glazbe, jedan od najboljih i najtraženijih romskih pjevača. Pjesnik, pjevač, svirač, glumac, i još mnogo toga. Iz navedenog se možda i može naslutiti da je riječ o Šabanu Bajramoviću. Rođen je u Nišu, 1936. godine.
Autorica: Antonia Mudrovčić
Prijevod: Antonia Mudrovčić
Kralj romske glazbe, jedan od najboljih i najtraženijih romskih pjevača. Pjesnik, pjevač, svirač, glumac, i još mnogo toga. Iz navedenog se možda i može naslutiti da je riječ o Šabanu Bajramoviću. Rođen je u Nišu, 1936. godine.
Stari su Rimljani rekli da se preko trnja dolazi do zvijezda, a Šaban Bajramović u tu se izreku itekako uklapa. Teško je živio u djetinjstvu, i odgajan je u siromaštvu. Njegovi su roditelji jedva prehranjivali svojih sedmero djece. Zbog toga je Šaban vrlo rano morao početi raditi. Osnovnoškolsko obrazovanje prekinuo je nakon četiri završena razreda. Radio je sve do polaska u vojsku, ali njegov nemirni duh ni tamo ga nije dugo zadržao. Iz vojske je, nakon samo mjesec dana, pobjegao zbog ljubavi. Imao je namjeru vratiti se, ali su ga uhapsili i poslali na Goli otok, koji je u to vrijeme bio redovni zatvor. Osuđen je na višegodišnji zatvor. Ta mu je presuda donijela sve ono što je kasnije postao, iako se to u ovom kontekstu čini malo neobičnim. Naime, rekao je jednom prilikom da je "na Golom otoku pročitao nebrojeno mnogo knjiga, naučio svirati i pisati glazbu." U zatvoru je osnovao orkestar, i njegova ljubav prema glazbi došla je do punog izražaja.
Nakon povratka s Golog otoka počeo je pjevati po kavanama i na taj način zarađivati za život. Prilikom jednog takvog nastupa zapazio ga je slovenski producent, s kojim je u Sloveniji snimio prvu ploču. Na toj se ploči nalaze i stihovi "Gelem, gelem, lungone dromensa/Maladilem bakhtale Romensa (Putovao sam putevima dugim/i sretao sretne Rome)." Stihovi su to romske himne Đelem, đelem, koju mnogi pogrešno pripisuju Šabanu Bajramoviću. Naime, njegova se interpretacija pjesme Đelem, đelem smatra jednom od najboljih i najljepših izvedbi ikad, i postala je himnom svih Roma. Nakon izdavanja gore navedene ploče, njegova karijera poprimila je uzlaznu putanju. Uspjesi su se i dalje nizali, te je Šabanova karijera svoj vrhunac dosegla u 70-im godinama prošlog stoljeća. U to je vrijeme izdao i jednu od svojih najpoznatijih pjesama, Geljan dade, koja je kasnije prepjevana pod naslovom Prokleta je Amerika. U 70-ima je osnovao i grupu Crna mamba, na čijem je čelu bio sljedećih 20 godina. O njegovoj veličini svjedoči i poziv Indire Gandhi da nastupi u Indiji, gdje je proglašen "kraljem romske muzike".
U svojoj četrdesetogodišnjoj karijeri izdao je 20 albuma i napisao preko šest stotina pjesama. Inspiraciju za svoje pjesme nalazio je na ulici, u svakodnevnim malim ili velikim životnim stvarima. Međuljudski odnosi, razne svađe i prepirke, sve je to Šaban pretakao u glazbu. U svom je stvaranju uspio glazbu ostaviti u njenoj najčišćoj formi, oslanjajući se samo na svoj golemi talent. Na njegovu glazbu nije utjecao nijedan od trendova koji su se u to vrijeme izmjenjivali.
Šaban je zarađivao velik novac, ali ga je istovremeno pratila i jedna tamna strana. Naime, bio je strastveni kockar, zbog čega je starost dočekao siromašan. Nikad nije zaštitio svoja autorska prava, tako da su se njegovim pjesmama mnogi probijali, čak ni ne spomenuvši njegovo ime. Kraj života dočekao je u teškom siromaštvu. Nije imao novaca čak ni za lijekove. Preminuo je 2007. godine od posljedica srčanog infarkta.
Šaban Bajramović ostavio je velik trag u svijetu romske, a i glazbe općenito. Njegov prirodni talent i lakoća izvođenja urezani su u glazbenu povijest. Međutim, njegov način života skupo je koštao i njega, i njegovu obitelj, i još jednom potvrdio da je i obratna putanja, od zvijezda do trnja, itekako moguća.
King of Roma music, one of the best and most wanted Roma singers. Poet, singer, music player, actor, and so much more. From all this stated above, you might already know this article is about Šaban Bajramović. He was born in Niš, in the year 1936.
The ancient Romans had a saying that through the thorns we reach the stars (Per Aspera ad Astra), and Šaban Bajramović was just the right person to fit in that saying. He had a rough childhood and was raised in poverty. His parents could barely afford the food for their seven children, hence it's why Šaban started working very early. He dropped out of elementary school after finishing four years. He worked until he joined the army, but his wandering spirit did not keep him there for long. He escaped from the army after only a month because he fell in love. He was planning to get back, but he was arrested and sent to Goli otok, which was a regular prison at the time. He was sentenced to prison for many years. That verdict brought him everything that he became later, even though it might seem a bit unusual in this context. He once said that "on Goli otok he read a countless number of books, learned how to play and write music". He formed an orchestra in prison, and his love for music was fully revealed.
After coming back from Goli otok he started singing in pubs as a way of earning for life. During one of those performances, a Slovenian producer recognized his talent and took him to Slovenia to record his first vinyl. That vinyl also contains the verses "Gelem, gelem, lungone dromensa/Maladilem bakhtale Romensa (I've traveled on long roads/and met happy Roma". These are the lyrics of the Roma anthem Gelem, gelem, which is often attributed to Šaban Bajramović as its author. His interpretation is considered to be one of the best and most beautiful ones, and it became the anthem of the Roma people. After releasing the vinyl mentioned above, his career was ascending. Successes were coming one after another, and Šaban's career reach its top in the 1970s. At that time he also recorded one of his most famous songs, Geljan dade, which was later remade and renamed to Prokleta je Amerika. He also founded a group in the 70s. The name of the group was Crna mamba, and he was the leading singer for the next 20 years. His greatness can also be evidenced by the call from Indira Gandhi to perform in India, where he was proclaimed the "king of Roma music".
In his 40 years long career he released 20 albums and wrote over 600 songs. Inspiration for his songs was coming from the streets, from everyday life situations, small or the big ones. Cross-human relationships, different fights, and arguments, Šaban was turning all of that into music. He was able to keep the music in its purest form, relying only on his huge talent. None of the trends at that time was not influencing his music.
Šaban was earning a lot of money, but at the same time, he had one dark side. He was a passionate gambler, which is why he spent his old age being poor. He never protected his music with copyrights, so many were succeeding with his songs, without even mentioning his name. His last years of life were especially hard because he had no money to buy medications. He died in the year 2007 from a heart attack.
Šaban Bajramović left a big mark in the world of Roma music, and music in general. His pure talent and the ease with which he performed are deeply rooted in music history. However, his lifestyle cost dearly, both him, and his family, and once again confirmed that the reverse path, from the stars to the thorns, is indeed possible.
Povratak na Fokus