JE LI TO BILO MOGUĆE?
25. 3. 2021.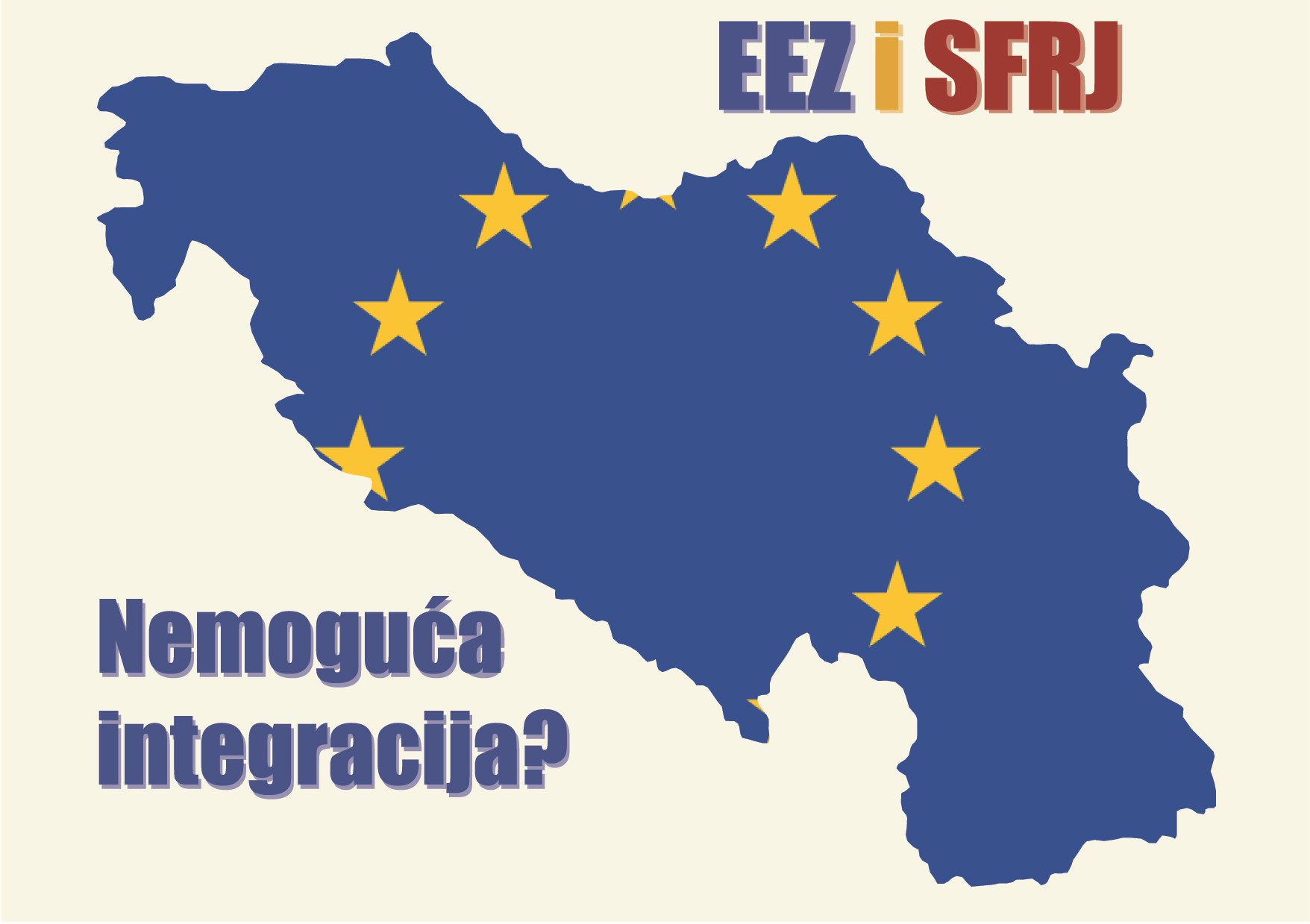 EEZ i JUGOSLAVIJA: PRIČA O NEMOGUĆOJ INTEGRACIJI
Danas je svaka država koja je nastala ili obnovljena nakon raspada Jugoslavije članica EU, kandidatkinja za članstvo u EU ili želi pristupiti Europskoj uniji. Pitanje je zašto Jugoslavija nije postala članicom EU?
Autor: Clément Baloge
Prijevod: Daria Maracheva
Europska ekonomska zajednica (EEZ), rodonačelnica moderne Europske unije osnovana je 1957. godine potpisivanjem Rimskih ugovora. Takva inicijativa imala je za cilj održivi razvoj država članica i ujedinjenje europskih zemalja produbljivanjem njihovih gospodarskih veza. Tada je samo šest zemalja bilo dio ove zajednice, i to Belgija, Francuska, Italija, Luksemburg, Nizozemska i Zapadna Njemačka.
Istovremeno, na Zapadnom Balkanu, Josip Broz Tito bio je na čelu ujedinjene komunističke Jugoslavije, ali bez patronata Sovjetskog Saveza za razliku od drugih socijalističkih zemalja u Europi. Zahvaljujući svojoj specifičnoj situaciji, Jugoslavija je mogla provoditi uravnoteženu vanjsku politiku ne držeći se logike blokova koja je prevladavala tokom Hladnog rata.
Unatoč suprotnim ideologijama i političkim sustavima ova dva subjekta međunarodnog prava dijelila su zajedničke interese u nekoliko područja. Dakle, određeni stupanj suradnje između njih stvorio je pretpostavke onoga što još uvijek traje: integracija Balkana u Europsku uniju.
Neposredno nakon Drugog svjetskog rata, Tito je počeo provoditi politiku po sovjetskom modelu. Međutim, između Stalina i Tita je izbio sukoba, koji je postao prijetnja Titu. Taj raskol Tito-Staljin do kojeg je došlo 1948. godine, stavio je točku na odnose između dvojice vođa, a time i između dviju država. Posljedice za Jugoslaviju, čija je ekonomija ovisila o odnosima s drugim državama Sovjetskog bloka, bile su katastrofalne. U potrazi za novim saveznicima, FNRJ se okrenula Zapadu, kako u sigurnosne, tako i u razvojne svrhe. Obrambeni aspekt bio je ključan jer su se Tito i Komunistička partija Jugoslavije bojali napada Crvene armije. Odgovorom na ovu krizu bilo je potpisivanje Balkanskog pakta iz 1953. godine s Turskom i Grčkom, dva saveznika SAD-a. Balkanski pakt je stvoren kao vojni savez između tri zemlje, što je dovelo do neizravnog pridruživanja Jugoslavije NATO paktu. Nakon Staljinove smrti i pomirenja Sovjetskog Saveza i Jugoslavije 1956. godine, Tito je popravio odnose s Istočnim blokom, ali nije prestao provoditi samostalnu vanjsku politiku.
Potpisivanjem Rimskih ugovora Jugoslavija se našla između dviju glavnih ekonomskih organizacija, odnosno Europske ekonomske zajednice (EEZ) na Zapadu i Vijeća za uzajamnu ekonomsku pomoć (SEV) na Istoku. Budući da se ekonomska suradnja Jugoslavije uglavnom preusmjerila od Sovjetskog bloka prema zapadnim susjedima, uglavnom Zapadnoj Njemačkoj i Italiji, stvaranje EEZ-a rezultiralo je sve većim pritiskom na socijalističku državu.
Kombinacija različitih faktora natjerala je vodstvo Jugoslavije tražiti treći put. Rješenjem je bilo uspostavljanje, 1961. godine Pokreta nesvrstanih zemalja u Beogradu. Cilj ove organizacije bilo je udruživanje zemalja koje formalno nisu bile dio nijednog bloka, uključujući regionalne sile poput Jugoslavije, Indije i Egipta. Mnoge nove neovisne države pridružile su se Pokretu nakon dekolonizacije. Politička elita u Beogradu smatrala je Pokret nesvrstanih političkim instrumentom za održavanje uravnoteženog pristupa između dvaju blokova. Odlučivši ne podržati niti SAD niti Sovjetski Savez, Jugoslavija je mogla surađivati ​​s obje strane.
Unatoč takvoj politici, Jugoslavija je bila spremna surađivati s Europskom ekonomskom zajednicom. To se može objasniti važnošću država članica EEZ-a za jugoslavensku vanjsku trgovinu i općenito gospodarstvo. EEZ je postala glavno uvozno i izvozno tržište za socijalističku zemlju. S druge strane, većina država članica EEZ-a također je podržavala neki oblik suradnje s Jugoslavijom, kako ona ne bi potpala pod utjecaj Moskve. Međutim, odnosi Jugoslavije nisu bili prijateljski sa svim državama članicama EEZ-a. Iako je status Trsta "de facto" riješen 1954. godine, on je utjecao na odnose između Italije i Jugoslavije sve do potpisivanja Osimskih sporazuma iz 1975. godine. Službeno priznavši Istočnu Njemačku 1957. godine, Jugoslavija je također imala zategnute odnose sa Zapadnom Njemačkom sve do 1968. godine kada je Willy Brandt izabran za kancelara i počeo provoditi "Ostpolitik".
Iako je Jugoslavija bila komunistička zemlja, ekonomska politika SFRJ dozvoljavala je neki oblik suradnje s EEZ-om. Pristalice "tržišnog socijalizma" pokušale su provesti reforme 1965. i 1967. godine. Između ostalog, one su se zalagale za decentralizaciju i dopuštale stranih ulaganja u obliku zajedničkih ulaganja. Razgovori o suradnji su aktivno započeli 1965. godine i rezultirali su potpisivanjem "Deklaracije o odnosima između SFRJ i EEZ-a" dvije godine kasnije. Usprkos izostanka odredbi o konkretnoj gospodarskoj suradnji između ova dva subjekta, činjenica da je socijalistička zemlja potpisala sporazum s Europskom ekonomskom zajednicom imala je simbolično značenje i predstavljala je veliki diplomatski uspjeh obje strane.
Intervencija Varšavskog pakta u Čehoslovačkoj 1968. godine pridonijela je ubrzanju suradnje između EEZ-a i Jugoslavije, jer se socijalistički blok predvođen SSSR-om u Jugoslaviji viđen potencijalnom prijetnjom. Jugoslavija je 1969. godine uspostavila Stalnu misiju pri EEZ-u, 1970. godine je potpisan Trgovinski sporazum, nakon kojeg je uslijedio drugi 1973. godine. Jugoslavensko gospodarstvo je sve više ovisilo o EEZ-u, o čemu svjedoči iznos doznaka koji su upućivali građani Jugoslavije iz Zapadne Europe. Zaista, milijuni jugoslovenskih građana odlazili su na rad u Zapadnu Europu, dok je SFRJ bila u ekonomskioj krizi. Zapadna Njemačka bila je glavno odredište jer su stotine tisuća jugoslavenskih gastarbajtera otišle tamo, posebno nakon potpisivanja bilateralnog sporazuma iz 1968. godine koji je imao za cilj zapošljavanje jugoslovenske radne snage u njemačkoj industriji.
Međutim, liberalizacija jugoslavenske ekonomije sredinom 1960-ih godina nije trajala dugo, jer su Tito i drugi vodeći funkcionari Komunističke partije smatrali takvu politiku potencijalnom prijetnjom socijalističkoj ideologiji, a time i njihovoj vlastitoj moći. Studentske demonstracije u Beogradu, u lipnju 1968. godine, u kojima su prosvjednici, između ostalog, osudili tržišno orijentirani pristup, potvrdila je neuspjeh pokušaja razvoja liberalne ekonomije u Jugoslaviji.
Tokom 1970-ih godina ekonomski odnosi između EEZ-a i SFRJ bili su otežani pokušajem Jugoslavije da izgradi kontroliraniju i samodostatniju ekonomiju. Jugoslavija je balansirala između Zapada i Istoka ovisno o svom interesu. Nekoliko događaja je također utjecalo na ekonomske odnose između dva subjekta. Naftna kriza iz 1973. godine i usvajanje nekoliko protekcionističkih mjera od strane Europske ekonomske zajednice su između ostalog negativno utjecali na jugoslovenski izvoz. Stalno rastući deficit platne bilance s EEZ-om postao je ključan problem za Jugoslaviju. Usprkos tome, čak i u tom razdoblju Zapadna Europa ostala je glavni ekonomski partner Jugoslavije.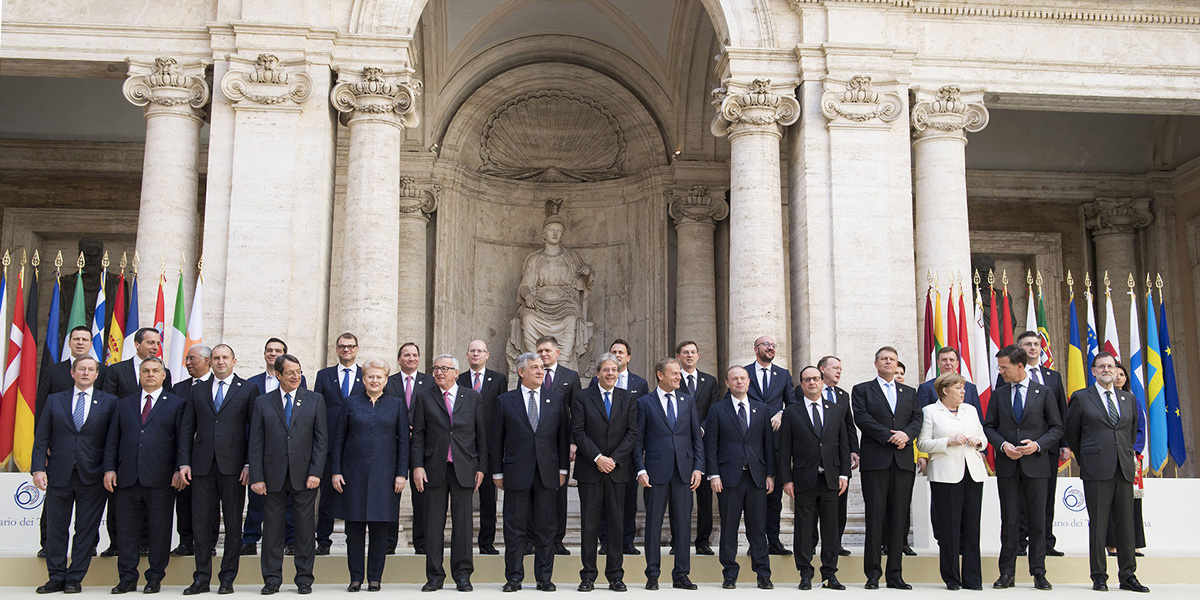 Titova smrt 1980. godine označila je početak razdoblja nestabilnosti za Jugoslaviju. Bez svog "vođe i učitelja" socijalistička zemlja se počela suočavati sa sve većim strukturnim ekonomskim problemima i nedostatkom vodstva. Ovi strukturni problemi su u velikoj mjeri bili uzrokovani političkim zastojem 1970-ih godina. Neprovođenje reformi gospodarstva i nesposobnost postizanja željene samodostatnosti su bili razlozi teškog ekonomskog stanja u zemlji početkom 1980-ih. godina. Nakon Ustavnih promjena 1971. godine, i još više nakon usvajanja novog Ustava 1974. godine, SFRJ je "de facto" postala konfederacija u kojoj su većinu odluka republike donosile samostalno, a ne više središnja država. Dok je nacionalizam polako ali sigurno rastao zajedno s nezadovoljstvom stanovništva, unutarnja politika postala je prioritet za vlasti Jugoslavije.
Produbljivanje ekonomske suradnje s EEZ-om nastavilo se i tokom sljedećeg desetljeća. Važan sporazum o suradnji u sferi trgovine i o financijskoj pomoći potpisan je 1980. godine. Sporazumom je definirano da je EEZ spreman "doprinositi ekonomskom razvoju Socijalističke Federativne Republike Jugoslavije u različitim sferama od zajedničkog interesa", dok je Europska ekonomska zajednica dobila status "najpovlaštenije države u trgovini". Godinu dana kasnije, strateški značaj Jugoslavije za EEZ postao je veći nego ikad, nakon toga što je Grčka ušla na zajedničko europsko tržište. Europska investicijska banka je između ostalog odobrila dva zajma namijenjena povezivanju elektro-distribucijske mreže SFRJ s Italijom i Grčkom i izgradnji transjugoslavenskog autoputa.
Budući da je suradnja zbližavala oba subjekta, postavilo se pitanje pune integracije Jugoslavije u EEZ. Mnogi analitičari i političari s obje strane sumnjali su u mogućnost takve integracije, budući da su ključne ekonomske, socijalne i političke razlike i dalje postojale. Tokom posjeta Bruxellesu 1988. godine ministar vanjskih poslova SFRJ Budimir Lončar izjavio je:
"Danas u Jugoslaviji postoji potpuna suglasnost, kako među odgovornim političkim vođama, tako i u široj javnosti, da se Jugoslavija treba sveobuhvatnije i potpunije integrirati u Europu."
Uoči rata, SFRJ je bila bliže nego ikad prije da se pridruži zajedničkom europskom tržištu. Istovremeno, EEZ je spremao Ugovor iz Maastrichta o uspostavljanju Europske unije. Francuska i Italija, dvije članice osnivačice EEZ-a, zalagale su se za takvu integraciju Jugoslavije, ali ostale države članice, poput Španjolske, bile su protiv. Krajem 1989. godine Vlada Jugoslavije započela je pregovore o dobivanju takvog statusa. Međutim, bilo je već prekasno. Tada je već počeo raspad zemlje 1991. godine i neuspješni pokušaj rješavanja jugoslovenske krize, ali cilj nikada nije bio postignut.
Potpisanjem Rimskih ugovora iz 1957. godine ostvaren je san o ujedinjenoj Europi, što je bio preduvjet dugotrajnom miru na kontinentu. Kroz desetljeća Europska ekonomska zajednica je evoluirala i povećavala se, suočavajući se s izazovima koje ona nije uvijek rješavala efikasno, ali koji nikada nisu smanjivali njezinu privlačnost. Uz bolje razumijevanje između EEZ-a i SFRJ Zapadni Balkan mogao se pridružiti ovoj ujedinjenoj Europi 1990-ih godina. Umjesto toga, samo su se dvije države, Slovenija (2004.) i Hrvatska (2013.) pridružile Europskoj uniji nakon dobivanja neovisnosti. Ostali su još uvijek u procesu stjecanja punopravnog članstva, i u njih vide budućnost Europske unije.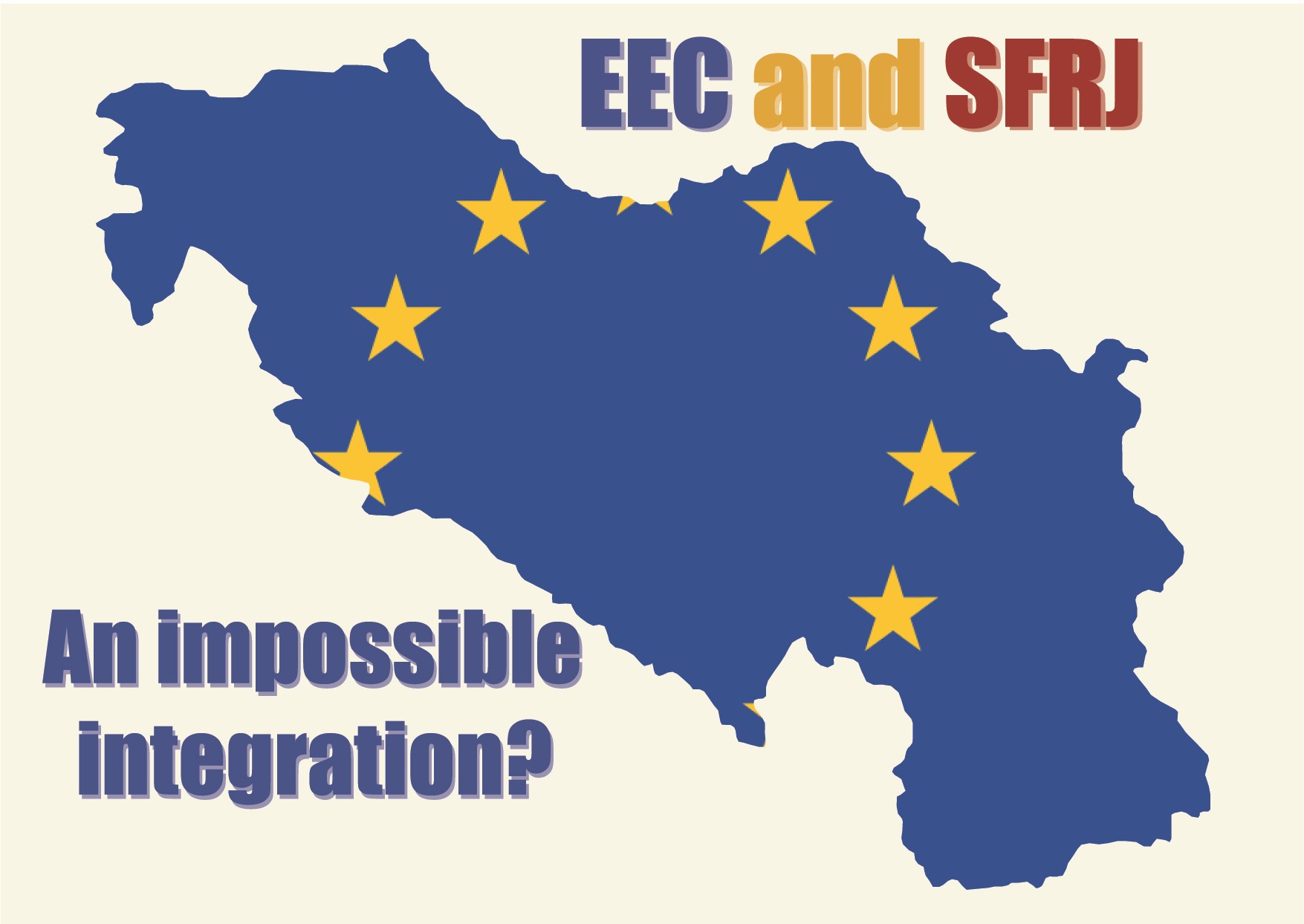 Nowadays, every state that was created or renewed after the disintegration of Yugoslaviais either member, candidate or willing to join the European Union. Why didn't Yugoslavia itself achieve it?
In 1957, the European Economic Community (EEC), the ancestor of the European Union, was founded with the signature of Rome Treaties. Such an initiative intended to both sustain the development of its members and gather European countries through a deepening of their economic ties. At that time, only six countries were part of the community, namely Belgium, France, Italy, Luxembourg, the Netherlands and West Germany.
At the same time, in Western Balkans, Josip Broz Tito held power over a united communist Yugoslavia, but without being under the patronage of the USSR, contrary to other socialist countries in Europe. Thanks to its specific situation, the Country was able to adopt a balanced foreign policy out of the bloc logic prevailing during the Cold War.
These two entities, despite opposite ideologies and political systems, shared a common interest in several fields. Thus, a certain degree of cooperation between them set the premises of what is still ongoing nowadays: Balkan integration in the European Union.
Immediately after the Second World War, Tito started to implement policies following the Soviet model of the USSR. However, a conflict arose beteween Joseph Stalin and Tito, threatening the Yugoslav leader. In 1948, the so-called Tito-Stalin split put an end to the relations between the two leaders, and thus, between the two States. The consequences on Yugoslavia, whose economy depended on ties with the rest of the Soviet Bloc, were disastrous. Looking for new allies, the Federal People's Republic of Yugoslavia (FNRJ) turned towards the West, both for security and development purposes. The defensive aspect was a key issue as Tito and the Communist Party of Yugoslavia feared an attack by the Red Army. The answer to this crisis can be illustrated by the 1953 Balkan Pact with Turkey and Greece, two allies of the USA. It set a military alliance between the three countries, leading to an indirect association of Yugoslavia with NATO. After Stalin's death and the reconciliation of the USSR and Yugoslavia in 1956, Tito went closer to the Eastern Bloc again but did not forget to look for its own foreign policy.
With the Treaty of Rome, Yugoslavia ended up being trapped between two major economic organisations, namely the EEC in the West and the Council for Mutual Economic Assistance (Comecon) in the East. As the economic ties of Yugoslavia largely shifted from the Soviet bloc to its Western neighbours, mostly West Germany and Italy, the creation of EEC was putting pressure on the socialist State.
These different factors forced the leadership to search for a third way. The solution was the establishment of the Non-Aligned Movement (NAM) in 1961 in Belgrade. The goal of this organisation was to unite countries that were not formally part of any bloc, with regional powers like Yugoslavia, India or Egypt. Many newly independent countries joined the movement following decolonisation. Political elites in Belgrade considered NAM as a political tool to keep a balanced approach between the two blocs. Not choosing to support the USA nor USSR, Yugoslavia was able to cooperate with both sides.
Despite this policy though, the FNRJ was eager to cooperate with the EEC. It can be explained easily by the importance of EEC members for Yugoslav foreign trade and economy in general, EEC being the main area both for imports and exports of the socialist country. On the other side, most EEC members also wanted some form of collaboration with the FNRJ, for it not to fall under Moscow's influence. However, Yugoslavia relations were not friendly with all EEC members. Despite being solved de facto in 1954, the question of Trieste territory continued to affect formal relations between Italy and Yugoslavia until the Treaty of Osimo in 1975. Officially recognising East Germany in 1957, Yugoslavia also had difficult relations with West Germany until 1968 and the election of Willy Brandt as Chancellor and his well-known Ostpolitik.
While being a communist country, the economic policy of the Socialist Federal Republic of Yugoslavia (SFRJ) enabled some forms of cooperation with the EEC. Partisans of "market socialism" tried to implement reforms in 1965 and 1967. Among other things they encouraged decentralisation and allowed foreign investment in the form of joint ventures. Thus, talks on cooperation effectively started in 1965 and resulted in the signature of the "Declaration on Relations between the SFRJ and the EEC" two years later. While this document remained blurred on concrete economic cooperation between the two entities, the symbol of a socialist country signing such an agreement with the EEC was a major diplomatic success for both sides.
The invasion of Czechoslovakia in 1968 by members of the Warsaw Pact contributed to an acceleration of the cooperation process between the EEC and Yugoslavia as the left block led by the USSR appeared as a potential threat for the SFRJ. Then, in 1969 Yugoslavia established a Permanent Mission to the EEC and a Trade Agreement was signed in 1970, followed by a second one in 1973. The Yugoslav economy depended more and more on the EEC, as illustrated by the importance of the remittances coming from citizens in Western Europe. Indeed, millions of citizens went to Western Europe to work while the SFRJ was experiencing economic shortcomings. West Germany was the main destination, as hundreds of thousands of Yugoslav Gastarbeiter went there, especially after the signature of the 1968 bilateral agreement aimed at recruiting workforce for the German industry.
The liberalisation of the Yugoslav economy in the mid-60s did not last long though as Tito and other major figures of the Communist Party considered such policy as a potential threat to the socialist ideology, and thus to their power. The student demonstration in June 1968 in Belgrade, in which protestors denounced this market­oriented approach among other things, confirmed the failure of liberal economy promotion in Yugoslavia.
During the 1970s, the economic ties between the EEC and the SFRJ were challenged as the socialist country promoted a more controlled and self-sufficient economy and was balancing its cooperation between West and East depending on its interest. Several issues also affected the economic relation between the two entities, in particular the 1973 oil shock and the adoption of several protectionist measures by the EEC damaged the SFRJ exports. The ever-growing balance-of-payments deficit with the EEC became a key issue for Yugoslavia. Nonetheless, even during this period, Western Europe remained the main economic partner of Yugoslavia.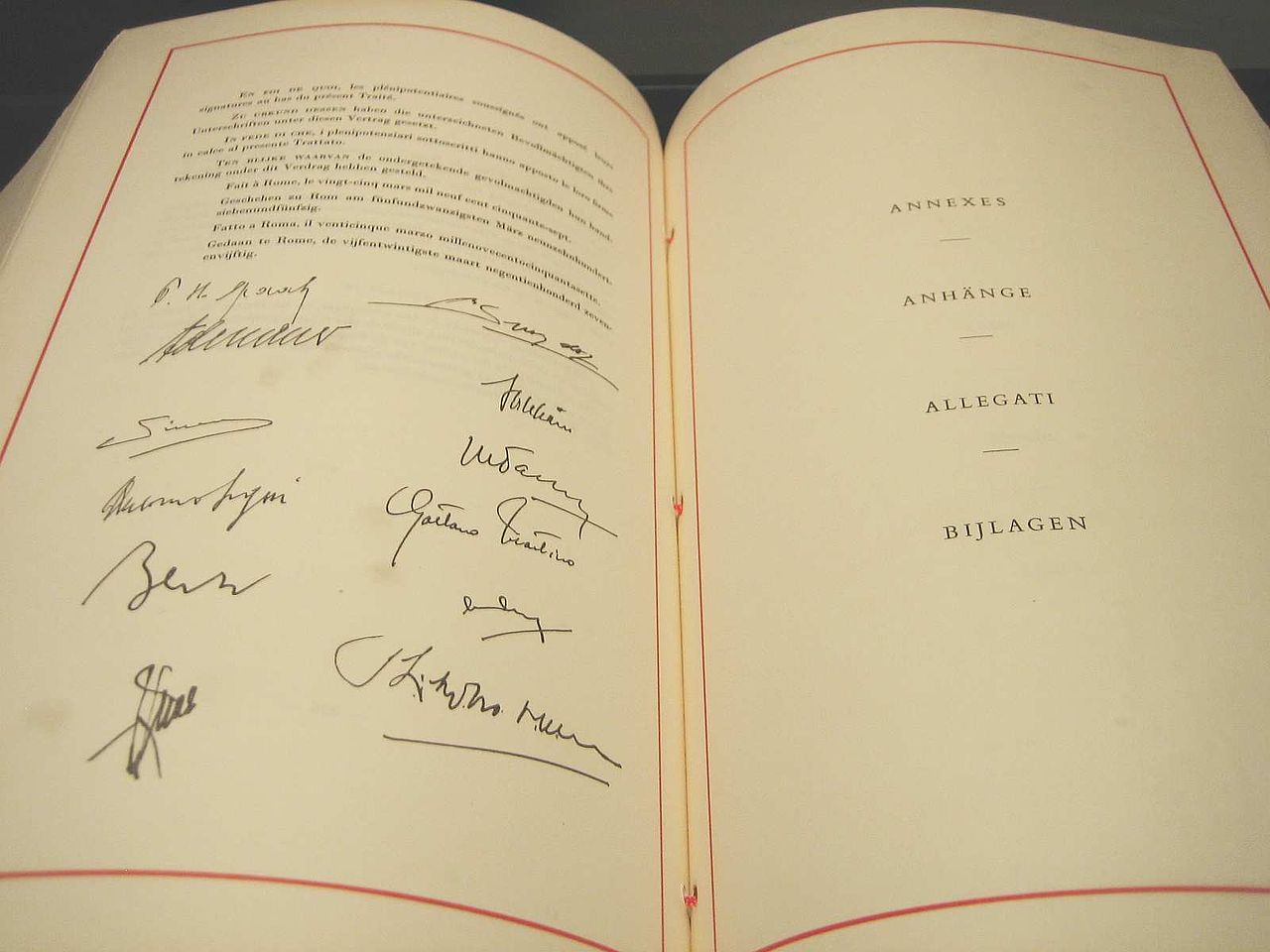 In 1980, the death of Tito opened a period of instability for Yugoslavia. Without its tutelary figure, the socialist country faced an increasing threat as it experienced structural economic problems and a lack of leadership. Indeed, these structural problems were largely caused by the political stalemate inherited from the 1970s. The inability to reform the economy and the impossible achievement of a dreamed self-sufficiency explain the difficult economic situation of the country in 1980s. Following the Constitutional Amendments of 1971, and even more after the Constitution of 1974, the SFRJ became 'de facto' a confederation in which most decisions were taken in Republics themselves and not anymore by the central power. While nationalist ideas were slowly but surely growing with the discontent of the population, inner politics became the priority of Yugoslav authorities.
The deepening of economic ties with the EEC continued during the decade to follow. A major cooperation agreement on trade and financial aid was signed in 1980, with the EEC willing "to contribute to the economic development of the Socialist Federal Republic of Yugoslavia in various sectors of mutual interest" while the Community was being granted the status of "most-favoured-nation" in trade. A year later, strategic importance of Yugoslavia became greater than ever for the EEC as Greece entered the common market. Among other things, the European Investment Bank issued two loans designed to link the electric distribution network of the SFRJ with the ones of Italy and Greece, as well as to build a trans-Yugoslav road.
As cooperation was bringing both entities closer, the question of full integration of Yugoslavia in the EEC arose. Many analysts and politicians on both sides doubted the possibility of such a merger, as key economic, social and political differences remained. During a visit to Brussels in 1988, the Minister of Foreign Affairs of the SFRJ, Budimir Lončar, stated that:
"In Yugoslavia today, there exists full consensus, both among responsible political leaders and in the general public, that Yugoslavia needs to integrate itself more widely and more fully into Europe."
On the eve of the war, the SFRJ was closer than ever to join the common market. At the same time, the EEC was preparing the Maastricht Treaty and the transition to the European Union. France and Italy, two founding members of the EEC, were advocating for such an integration of Yugoslavia, but other members like Spain were reluctant. At the end of 1989, the Government of Yugoslavia started negotiations to get such a status. However, it was already too late. With the beginning of the country dismantlement in 1991 and the poorly designed European attempt to solve the crisis, this horizon was never reached.
In 1957, the Treaty of Rome consecrated the hope for a more united Europe, seen as the prerequisite for long-lasting peace on the continent. Through decades, the Community evolved and grew, facing challenges that it did not always solve efficiently, but which never stopped its attractiveness. Western Balkans could have joined this common story in the 1990s with a better understanding between the EEC and the SFRJ. Instead, only two countries, namely Slovenia (2004) and Croatia (2013) joined the European Union following their independence. The others are still in the process of acquiring full membership, being seen as the future of the European Union enlargement.
Galerija slika:
Povratak na Fokus